Inbound Marketing and Content Are More Mobile Than Ever in 2017
A Snapshot of Trends in Qualified Lead Generation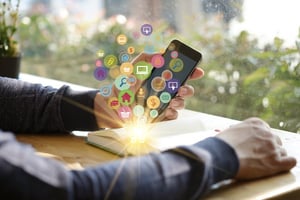 Every year, the leading venture capital firm Kleiner Perkins publishes a report on Internet trends. This year, the report included some remarkable findings in mobile computing and advertising. The Internet Trends 2017 Report reveals how mobile devices are dominating and growth in advertising is going to a few specific providers, namely Google and Facebook.
Not that long ago, marketing was a matter of printed materials, telephone calls, and network television. Stores were brick and mortar destinations that published printed catalogs. All of these changes have taken place within the lifetime of a generation that is still in the workforce. What marketers do and how we do it has changed so much.
Mobile Drives Qualified Lead Generation Now
As mobile has grown to dominate in digital marketing the technology has changed the role of advertising and given Google and Facebook influential roles as information brokers. You can call on these giants to target advertising that communicates your core value proposition more efficiently.
Additionally, you can use both platforms to discover more about the pain of the personas you wish to serve. This transformation gives you more options for qualified lead generation so you can reach out to strangers, convert them into leads, and then into customers.
Inbound Marketing Requires Engaging Personas
The one constant factor in marketing is that it is the desire to relieve pain that motivates the start of a buyer's journey; it gives them the answer to the pain of an unsolved problem. Do you know the pain that your customers experience? What would they do to eliminate that pain? No solution matters except to the extent that it solves a problem.
Offerings that do not relieve specific pain points for your customer are no offerings at all. Whether you employ the advertising services of Google and Facebook to attract your buyer personas or not, they can help you develop content and channels that attract, engage, and delight your audience.
So, mobile is where you will probably find your audience in the awareness stage of the buyer's journey. The journey now is more likely to begin for your customers on a mobile device. The content you offer to engage with your personas and convert them to leads and customers.
Marketing Strategy and Cross Channel Engagements
You can improve how these engagements convert as cross channel engagements by making the experiences as seamless as possible. Using the least amount of advertising investment, you can bring attention to content that appeals to your buyer personas and coaxes them toward the channels of your inbound marketing funnel.
As the buyer's journey takes your customers from mobile to bricks and mortar, and to call center support, it is more important than ever to ensure that they have a positive and congruent experience. Your final goal is that they reach the end of that journey and become the promoters and brand ambassadors for your brand.
Conclusions
The Kleiner Perkins report illuminates how the dominance of mobile in advertising will come from very narrow channels and yet it will have the broadest impact on marketing and sales campaigns. Regardless of the trends and emerging technologies, the core principles that define inbound marketing do not change.
Marketers always seek to generate qualified leads that will convert interest into the motivation to engage and purchase. The new advantage for inbound marketers is the ability to attract the leads with the least possible investment while benefiting from the targeting power of mobile advertising campaigns.