The Internet has changed the way people buy. Blog articles, for instance, help buyers make well-informed purchasing decisions. Unlike traditional advertising, these type of content are more educational than commercial. They are so effective that more and more business owners are starting to publish blogs for potential and existing customers. What makes them effective, however, is the inbound marketing strategy that perfectly fits into the business plan.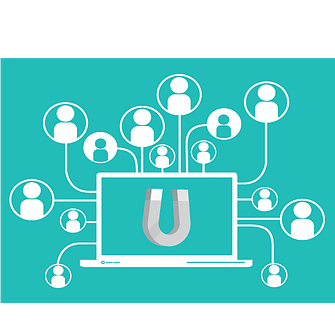 The results are noticeable once you implement a well-crafted inbound marketing strategy. You not only earn more traffic but also get real ROI. Here's how inbound marketing works through business blogging.
Business Blogs as Marketing Channels
Along with email and social media, blogs are quickly becoming new digital channels preferred by modern marketers according to B2B Magazine. Each blog post can be optimized (with search engine optimization techniques) to attract more traffic by achieving a front page position within search engine results.

Unlike traditional marketing channels, blogs are relatively easy to set up and manage. There's also a variety of titles or topics to write about, from simple how-to articles to lengthy yet engaging case studies. You can hire creative professionals to write regular blog articles. All you need is a new way of thinking. Instead of promoting your business all the time, you have to engage readers through relevant and valuable content. The goal is to establish yourself and your business as being knowledgeable and trustworthy within your particular industry. Something that is not easily achieved with promotional messages used in outbound marketing.
Attracting the Right Leads through Blogging
Start by using inbound marketing strategy that considers the needs and values of your ideal clients. You may already have an idea of who your customers are but you need to take the step of setting down to paper the characteristics of your marketing persona.
A persona, quite simply, is an imaginary character with a name, age, background, set of concerns (and even fears) and interests. Inbound marketing, in order to generate leads, should be personal. And this is why the first step is to create a persona. This imaginary character is who you speak to with your content.
Now think of your target audience when publishing blog articles. Your marketing personas may be imaginary but they are based on real people who do exist in real life. Will they find your content valuable? Will it help them decide on their next purchase? Or trust your company?
The best business blogs today put their target audience first. They naturally attract attention because people crave helpful and non-promotional information online. More importantly, they don't only cater to existing customers but also reach out to potential clients.
Persistence Pays Off in Blogging and Selling
If there's one thing traditional advertisers should understand about business blogs, it's the value of persistence. As in sales, blogging works only if you're willing to invest time and effort. While your audience can immediately access your blog post as soon as you publish, it doesn't mean that results happen overnight. The same is true with social media, PR and radio advertising.
The point is to keep your expectations realistic. For instance, getting at least a thousand page views within a week rarely happens to new blogs. The good news is, you can start publishing informative articles today and watch your business grow in the long run. Remember, inbound marketing is not just about traffic and eyeballs. It's essentially about engagement and valuable business relationships.
The Cornerstone of an Effective Inbound Marketing Strategy
At the heart of every successful inbound marketing strategy lies great content.
You've probably heard that content is king. It sounds clichéd but it's true. Compelling content always wins. It draws readers, enhances brand image and turn strangers into buyers.
Inbound marketing takes time and creativity. You can't just copy someone else's strategy. You have to craft your own strategy, one that aligns with your business goals and the priorities of your target audience.