The daily newspaper that used to be heavy with display ads and classifieds is now down to three days a week. Once-robust magazines like Newsweek have stopped printing altogether.
They're not the only examples of the decline of certain marketing media. Voltier Digital crunched some survey numbers:
86 percent of TV viewers skip the commercials;

44 percent of direct mail goes right into the trash, unopened;

200 million Americans registered on the Federal Trade Commission's "Do Not Call" list;
And those statistics were from 2011 – before tablets and smartphones overtook PCs and flip phones to become the mobile user's devices of choice.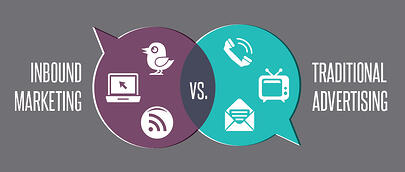 You get the picture
Direct mail, television, display ads, telemarketing, email blasts and even Yellow Pages are all examples of traditional paid advertising, also called "outbound" or "interruption" marketing. A generation ago, they still represented the standard in advertising.
Today, however, consumers are not around to interrupt – they're online. Half of all shoppers are spending 75 percent of their time conducting online research, and they're not looking for ads.
Instead, they're looking to be educated, informed, entertained and engaged – all functions provided by inbound marketing.
Let them find you
Inbound has proven itself over the past several years as a way to get found online – no small claim when you consider the billions of people searching the web at any given moment.
For a business owner, narrowing that vast audience into just those most likely to become customers would be nothing short of impossible using just ads, which computers block and people ignore.
But inbound marketing, with its foundation of non-advertising content – social networking, videos, white papers, podcasts or blogs (like the kind you're reading now) – uses search engine optimization keywords and high-value information to attract awareness and attention.
A proven process
Inbound marketing creates a B2B or B2C opportunities by creating a sales funnel based on a set of steps:
Great content posted on your website and social networks builds your credibility and gains you followers;

An effective call-to-action within your content drives users to a landing page;

An offer of premium or exclusive content on the landing page encourages visitors to leave contact information;

You use the information to determine which visitors become qualified leads;

You reach out to those leads with specialized email based on each lead's specific interests; and finally

The relationship of trust established through inbound marketing smooths the way toward more formal contact with a member of your sales force.
If that process sounds slower than, say, a coupon-book promotion or a direct mail flyer, it is – but the goal of inbound is to nurture leads into buyers who will stay with you through the long run, not just for the duration of a coupon's offer.
Can inbound and outbound work together?
Inbound marketing has been described as turning your marketing department into "farmers, not hunters." But even with outbound in decline, there's still a place for TV, print pieces, outdoor boards, trade shows and other traditional advertising, particularly if you have determined that your target market responds to such media.
Today, many savvy marketers combine the two tactics. Your direct mail, for instance, can include a QR code that opens to a YouTube video; or a posting on your Facebook page can lead to a printed dollars-off coupon.
Your SEO company can help you determine the best media mix for your business, and help you develop the great content that leads to the ROI of your dreams in the form of better qualified leads who are better-prepared to become your customers.