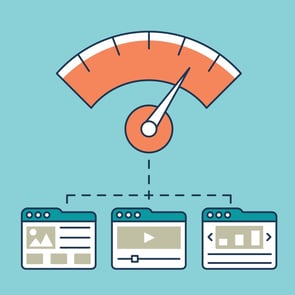 We get it! You want The Sale! Who doesn't?
Software marketer beware: That wanting of the sale now-now-now can be the bane of an otherwise awesome inbound marketing strategy.
If your landing pages aren't converting the way you want them to, odds are they suffer from Funnel Bottom Syndrome (more on that below) or any number of ailments that cause well-intentioned software marketing teams to fall far short of their sales goals.
Create Landing Pages That Convert
First off, don't forget the cold, hard fact that looks matter. If you haven't redesigned your website in a while, odds are your landing pages will suffer too, regardless of how well they're written or formatted. If the page looks good, the following insider tips are more likely to be effective.
Connect the Dots from A to Z
Companies who suffer from Funnel Bottom Syndrome (FBS) only connect the dots from S to Z. Or maybe they only connect X-Y-Z. Or maybe they start with A and B and skip directly to Z. The point is, FBSers jump to the campaign's punch line far too quickly, without building enough trust or interest from prospects. The bulk of their landing pages hover at the bottom of the funnel – and this strategy simply doesn't work.
You must focus on a more comprehensive inbound marketing strategy that not only takes a buyer from Point A to Point Z in this campaign, but optimally connects to other campaigns that will provide them with solutions as well.
Make it Scannable
Each type of inbound marketing content has its own ideal length and style. For example, long-content blogs should be at least 600 words, preferably even 800 or 1000 words, to really teach your prospects what you're all about. Facebook posts, of course, are significantly shorter. Long or short, though, content needs to be scannable. Make sure your content is divided and that headings and subheadings get right to the point so that scanning prospects feel inclined to read further – and then feel confident enough to click the CTA.
Use Inclusive "You're in the Club" Language
Your brand has a personality and voice of its own. It is a character of sorts in the lives of your customers. Prospects and customers need to sense that in your content, especially in the content of a landing page. Make them feel a part of something so that they will want to remain a part of that something by committing to the next step in the buyer's journey.
Shower Them with Gifts
...or, if that isn't possible, give them plenty of free whitepapers, eBooks, tips, access to friendly online chatting reps, etc. The more they feel they "get" from you for free, the more likely they are to eventually choose you when they're ready to commit.

No, this isn't bribing – it's just smart software marketing and a wonderful way to develop your brand as the one that truly cares about its customers. By the way, this tactic is an excellent one for creating content that sits in those tricky mid-level layers of the funnel – pulling you out of the FBS rut.
Use Familiar Navigation and CTA Formats
Innovation is rewarded in the software niche, but not so much when it comes to the basic function of landing pages. Internet searchers are accustomed to a certain order of things when it comes to navigation, layout, fonts, etc. Following conventional "best practices" is always the best bet here – your unique software and content can help set you apart from competitors.
Review existing landing pages through a fresh lens and then put these insider tips to work.