If you're sticking with tradition, advertising in the yellow pages may be a stock feature in your dental marketing plan. Yellow page advertising is appealing, too, because it requires very little effort. You design your ad, pay your money and then the advertisement generates business (or doesn't), for a year. But, have you assessed the return on that investment recently?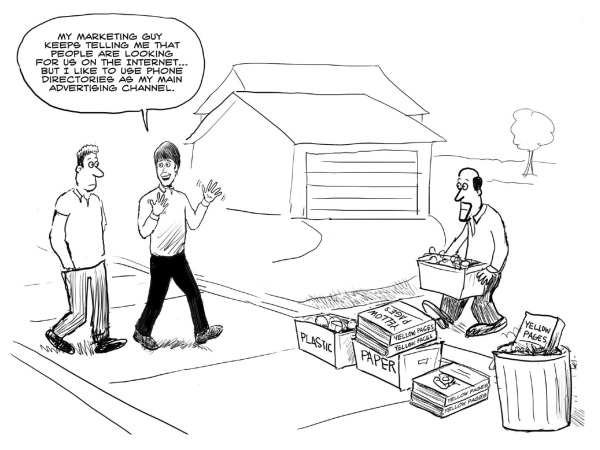 The cartoon is amusing, but only because we recognize the truth in it. How many unopened telephone directories have you seen stacked by the mailboxes in your building or sitting alongside the curb in your neighborhood? They're ignored, stepped on and tossed into the recycling unopened. Consumers and business customers alike have moved on. According to the Product Stewardship Institute, local governments spend more than $40 million per year disposing of more than 400,000 tons of printed telephone directories.
The system in which a potential patient pulls out the telephone directory, makes a selection and picks up the telephone is a thing of the past. 60-70% of the typical buyer journey now takes place before the prospect ever makes contact with the company. That means a self-guided research process that takes place primarily online and includes far more information than can be included in an advertisement in the yellow pages.
Changes to How Businesses Advertise
Most industries have recognized the shift in consumer habits and steered their marketing dollars in the digital direction, and some are embracing inbound marketing. If you happen to live in one of those households where someone still brings in the telephone directory off the porch and stores it in a kitchen drawer, you may have noticed that the size of the book has been steady declining over the past several years as advertisers move on to other marketing channels.
The healthcare industry in particular has been somewhat slow to recognize and embrace the change, and that's not surprising. The medical and dental professions face regulatory issues that many other industries do not, and so it's much easier for a retail operation or a lawn care service to experiment with new marketing methods. Late last year at the Content Marketing World Health Summit, Joe Pulizzi presented data showing that the health care industry was about two years behind the rest of the marketing world in implementing content marketing strategies.
While it's understandable, that's a shame, because prospective patients aren't showing the same hesitation. A recent Pew Research study revealed that 72% of Internet users looked for health care information online. And, about 20% of patients use online reviews when seeking a health care provider or researching treatment options. Most of this discussion can be tranferred easily to service based business too, any business that did well in the past with a simple listing in their local phone book is probably seeing a lot of changes to their bottom lines and ROI when it comes to advertising if they haven't made a solid transition to embrace inbound marketing methodology. Many have gone part of the way, allowing them to achieve a boost to the bottom line sooner than someone starting from scratch.
An Advertising Effort that Works
It goes without saying that any successful marketing plan depends on finding your target market. If you have any doubt about where you'll find that market, consider the fact that as early as 2010, a study by Local Search Insider revealed that 70% of people aged 35-54, 80% of those aged 25-34 and 87% of those 18-24 used search engines to find local businesses. Even in the 55-64 age group, more than half of respondents said they used search engines when looking for local goods and services.
Unless the majority of your target market is age 65 or older, your prospective patients, clients and customers are looking for their providers online. If your marketing plan doesn't reflect that reality, you're tossing your marketing dollars out on the curb with the telephone directory.