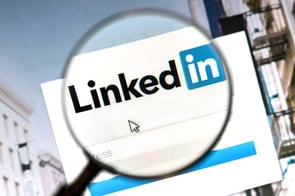 A lot of people don't like networking. When they think about it, they envision uncomfortable conversations, awkward exchanges of business cards, and empty promises. For these people, "networking" might as well be a four-letter word.
For others, networking results in an extremely important four-letter word: P-A-I-D.
The good news for both groups of people is that networking has never been easier, thanks to LinkedIn.
The business oriented, social networking site makes it easier than ever to connect with people who are most likely to want to do business with you, otherwise known as your leads.
It's all out there – all the information about where they work, what they do, and who they know. And if you know who your prospects are (which you should, if you are serious about developing a strategic inbound marketing strategy), you can use the power of LinkedIn to build a prospect database.
It's a Numbers Game
Anyone who succeeds in sales knows that it's a numbers game. The more prospects you have, the more opportunities you have to make a sale.
This is especially true when it comes to building a LinkedIn database to support your inbound marketing strategy.
So assuming you already have a detailed description of your prospects that includes their industries, their businesses, their titles, their locations, and their professional affiliations, you shouldn't have too difficult of a time building a LinkedIn database – a big one! – that is full of information about people who will actually want to hear from you.
You might be thinking in terms of hundreds, but in reality, you should be able to create a database with thousands of prospects quickly.
But it won't be easy.
You are going to need to get active on LinkedIn. Create a killer profile for yourself. Join groups. Start groups. Post content that establishes you and your company as industry leaders. Ask questions. Roll up your sleeves and start making connections.
Before you know it, you'll be connected with professionals who have verified interests in the products and services your company offers.
These are the people who are typically referred to as "high-value prospects." And they are the people you want to populate your LinkedIn database.
Yes, it will be time-consuming. Yes, you'll have to commit to working it. But it probably won't take as long as you think. And once you start reaching out to people and providing valuable information that makes their lives easier, they'll start reaching out to you.
And that's a surefire sign of an effective inbound marketing strategy.
But before that happens, you'll need to come up with compelling, authentic messages that you deliver on a consistent basis – kind of like a drip. Every little "drip" of information you provide is like water on a stone. Eventually, you're going to create headway toward turning your prospects into well qualified leads and eventually customers.
It's a new world, and it has never been easier to use networking to make it easier to get paid!
image credit: Ingvar Bjork / Shutterstock.com