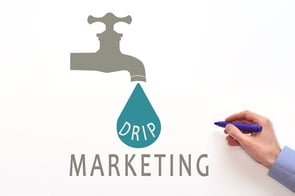 A slow drip. Water on a stone. Steady, relentless, and effective.
This sums up how inbound marketing strategy generally is intended to work in the first place, and going further into the lead nurturing avenues with drip email campaigns aimed at carefully selected contacts in LinkedIn only enhances the power to drive more qualified sales leads into your funnel with it.
You deliver reliable, value-added information specifically created for your targeted list of LinkedIn prospects on a consistent basis; LinkedIn delivers a steady stream of leads over a long period of time.
It's not something you can rush. It can't happen if you don't commit to it. And you've got to put in the time. Eventually, though, you'll wear away at the walls your prospects put up to protect themselves from people looking to make quick sales.
And eventually, you'll see the results you want.
Okay, in reality, it won't take an eternity, the way it does for water to wash away a coastline or carve away a rock. In reality, LinkedIn makes it pretty easy to develop an effective inbound marketing strategy that allows you to connect with the right prospects and convert them into customers rather quickly.
But you're still going to have to be persistent. You are going to have to practice the art (and possibly science) of "drip messaging."
Here's how:
Make sure you know your prospects. Do your homework. Know with precision in which industries your prospects work, for which companies they are employed, their titles, and who else they are connected with on LinkedIn.



Use LinkedIn to

build a database populated with the people most likely to want your products or services. Get active and build your connections into the thousands.


Craft messages specifically for the people in your database. Make them authentic, useful, different from those of your competitors and focused on how your products and services can make life easier for your prospects.


Deliver said messages at strategically selected intervals. Be strategic. Understand the natural cycles of industries and businesses. Be relentless in your commitment to delivering the right messages at the right times.
According to the Online Marketing Institute, which specializes in helping marketing professionals learn how to leverage the power of the Internet to turn prospects into customers, it takes anywhere from seven to more than 13 "touches" with a prospect before they consider converting.
In the "old days" (you know, in 2001, before LinkedIn was a thing), that could mean an awful lot of direct mail, phone calls, and personal visits. Today, however, it means being active on LinkedIn by creating connections, getting involved in groups, and even starting your own groups.
With all the competition for clicks, it's no longer enough to rely on search engine optimization and online ads. You have to create an inbound marketing strategy that puts you and your organization where your prospects are – and that's on LinkedIn.
Remember, it's like water on a stone – a slow drip that's steady, relentless, and effective. That's the key to making LinkedIn a central part of your inbound marketing strategy.