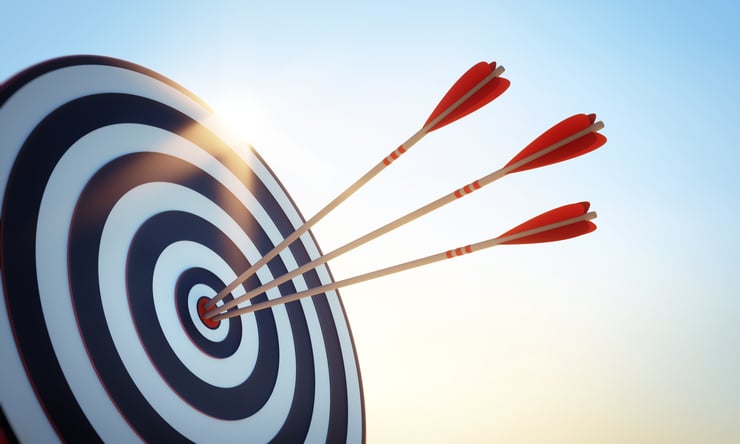 Did you know that 80% of B2B leads generated on social media come from LinkedIn? In addition, video ads on LinkedIn were hitting a 30% view-through rate – which is pretty impressive considering that video ads can run as long as 30 minutes.
There's no question that LinkedIn is a high-quality source for business-to-business leads. However, while it's great to produce content from your company page organically and share from your personal profile, you might not always be reaching who you want to.
Enter, LinkedIn ad targeting. In many cases only using organic posts on social media in general doesn't work like it used to, which is true even more so with LinkedIn. For B2B companies, LinkedIn offers the best opportunity to reach potential leads with ad targeting.
Here we'll share options for using LinkedIn ads, video ads, tips for reaching prospects on LinkedIn, and how you can integrate your ads with HubSpot.
Ad Targeting Options
Did you know LinkedIn's audience has 2x the buying power of the average web audience? With about 45 million decision makers on LinkedIn, the possibilities for ad targeting are endless.
Unlike ads on other networks, LinkedIn is an entirely professional network that offers a quality audience. You can also rely on LinkedIn's demographic information to reach your target persona.
LinkedIn targeting is available in three ways:
Which areas can you target?
Company – Name, Size, Industry, Followers, Connections
Experience – Job title, Job function, Job seniority, Years of experienced
Education – Schools, Degrees, Fields of study
Interest & Identity – Skills, Groups, Age, Gender, Location
For additional LinkedIn targeting information, watch the video below.
Best Practices for Targeting According to LinkedIn
As you prepare to set up your ad targeting, LinkedIn provides ample information. Here's an overview of some of the best practices from LinkedIn:
Audience Size
The minimum audience size for running a campaign is 300 members. While testing is necessary, LinkedIn recommends a minimum of 300,000 people for sponsored content, 60,000-400,000 for text ads, and for sponsored InMail, 100,000 people or fewer.
Audience Too Narrow Notification
It's also possible that the audience you've defined is too narrow. If that's the case, LinkedIn will notify you of that.
Relationships Between Targeting Selections
You should also consider the relationship between targeting selections, for example if you choose both Senior and Director, this will target members in both categories.
Another great source for LinkedIn ads best practices, Hootsuite shares a guide on all things related to LinkedIn ads.
They share a few great tips for LinkedIn ads, including:
Write from the reader's perspective
Use relevant images
Write personalized content
Budget and bid wisely
Measure to improve your ROI
A Few More Tips for Targeting Your Ideal Prospect
Beyond the basic recommendations LinkedIn provides about ad targeting, experts have found there are a few best practices that have helped them find success with LinkedIn ads. Marketing Land shares some targeting methods that could help you to reach your audience at a lower cost.
Profile Completeness
One issue that some companies may encounter with targeting is that many users haven't completed their profile information. For example, if you're targeting a particular job title and the person you're trying to reach doesn't have their title listed on their profile, your ad won't reach them.
Other Considerations for Each Type of Targeting
There are things every marketer should know when targeting on LinkedIn. The four types of targeting include, job title, job function, skills + seniority, and groups and seniority.
For job title, while it allows for precise targeting, one challenge is that it's also smaller audiences and a high cost per click (CPC).
When using job function for targeting, this will create large audiences, which is great, however, one downside is that it can be too broad and may not show your ad to the people you're interested in reaching.
For groups targeting, the good news is that you're reaching active and relevant audiences. On the other hand, this option also results in smaller audiences.
Finally, for skills targeting, this allows for large, self-selected audiences, but one negative is that the audience may be too broad.
Audience Size
Finally, while LinkedIn recommends an audience size of at least 300,000 for sponsored content, this may be a bit large, unless you have a huge budget. A best practice might be setting an ideal audience is between 20,000 to 50,000 to make the most of your ad and budget.
Interest Targeting
Beyond the areas we've already covered, businesses can also target your audience through interest targeting.
According to LinkedIn, "interest targeting was introduced in order to lets you reach members with relevant ads that match their professional interests — based on the content they share and engage with on LinkedIn."
This allows you to set your campaign to target more than 200 professional interests, from artificial intelligence to customer experience. A few major benefits from this type of targeting include:
Serve relevant ads and content that match a member's professional interests.
Deepen your influence with the buyer committee within your target accounts.
Dynamic Ads
Another option for targeting on LinkedIn is dynamic ads. These allow you to tailor campaigns to feature their company, product, service, event and more. With this type of ad you can:
Get closer with your audience – Through the ability to automatically personalize any ad to the person viewing it, this type of ad can reach people on a new level.
Personalize creative at scale – With ad templates provided by LinkedIn, you can easily set up an ad and LinkedIn's automatic personalization will do the rest.
Achieve full funnel marketing objectives – Finally, Dynamic Ads can help you reach someone in any part of the marketing funnel. Whether you want to increase followers on your company page or a Showcase page, or drive traffic to your website, this type of ad lets you easily target for either.
Video Ads
Video ads are another valuable way to reach your audience. As mentioned earlier, video ads are typically well-received on LinkedIn. With video ads, you can build brand awareness with professionals, drive qualified leads and acquire customers, and measure the impact of your video campaigns.
Here are a few steps for getting started with video ads:
If you're looking for inspiration for how to create a successful video ad on LinkedIn, check out some examples here.
HubSpot LinkedIn Ads Integration
Finally, if you use HubSpot, there's an integration with LinkedIn ads that makes it easier than before to set up and launch ads along with all of your other assets.
In a move that HubSpot viewed as being extremely valuable for customers, this integration allows users to manage everything in one place. Available for HubSpot users in the Professional and Enterprise tiers of the Marketing Hub. A few benefits of this integration include:
Create targeting audiences off of any data point within the HubSpot CRM and sync between HubSpot and LinkedIn
Automatically sync, de-duplicate, and nurture any new leads from LinkedIn's Lead Gen ads to the HubSpot CRM
Analyze how LinkedIn ad spend is influencing the company's bottom line with true ROI reporting
Align LinkedIn ads with the rest of the company's marketing efforts within HubSpot
Learn more about the integration between HubSpot and LinkedIn Ads here.
Ready to Move Forward with LinkedIn Ads?
If you're still not sure whether or not LinkedIn ads are right for your company, Spot On can help! Schedule a time to chat with us to determine if LinkedIn Ads would make sense for your budget and audience.