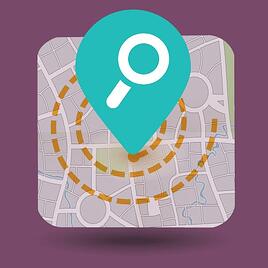 When it comes to getting found online – by Google, Bing and the people who use them – you have, essentially, one shot. If your site isn't up there on page 1 for all to see, it's a given that nobody's going to look on page 2 or beyond.
So for any B2B or B2C that targets local business, a low result equals no result, which is why local search engine optimization is vital to your inbound marketing campaign.
Search Engine Journal calls local SEO "probably one of the toughest online marketing strategies to implement" because of the depth of content and link connectivity needed to create a good local result.
The tactics, as Search Engine Watch notes, involves identifying "what content segments are unique to each geographical area," then highlighting those "on a state level, city level, and even micro local level by building dedicated pages for these audiences."
Long-tail, localized keywords
"It is far more valuable to be on the first page of search results for many different localized searches, than on the second page for one popular, but generic search term," notes WSM4B. A Google search for the generic "golf shoes," for instance, will pull up 256 million results that typically begin the well-optimized links of major dealers like Amazon or Overstock.com. But if your content is optimized with more area-specific words– "golf shoes in Detroit MI" – the results narrow drastically to 1.4 million results, which gives you a much better chance at pushing your page or blog to the top.
Going Google
If you like fairly confusing, sound-alike products, you'll love figuring out Google + Local and Google Places for Business. The search engine mega-giant, says 435 Digital, "has been fairly confusing during the changes that it made to how local businesses are listed in its Maps and Search that rolled out last year, and it has not made things easy or clear for local businesses." But the gist is that the former Google Places (upgraded as Google Places for Business) has become aligned with Google +, the company's answer to Facebook. The resulting hybrid, Google + Local, is actually a helpful resource once you optimize your site. On your Google account page, enter in all the local information that you can – address (a real address, not a PO Box), phone number, website URL, hours of operation, reviews and so on. Once you supply great local info, Google will handle the rest, including your place of business on the popular Google Map function. The ultimate benefit will be a wider network of search results that includes the social network of Google + as well as the regular Google search.
Directory assistance
Yahoo Local, Bing Local and the aforementioned Google+ Local aren't the only localized directories, though they are the biggest. You can also take advantage of industry-specific websites as another path for people to find you. If you're in real estate, for instance, Realtor.com and Zillow use basic search engine algorithms to help customers narrow down real estate listings and agencies in their area, and the search may target your listings.
Think locally
Local search engine optimization takes steps to implement and time to assess results, but it's essentially the only way your website, blog or other content will be discovered by the hometown audience you crave. Your SEO services provider can act as a key partner in helping you optimize your content for local success.