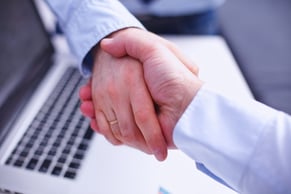 When it comes to first impressions, solid eye contact and a firm handshake mean a lot. The same is true in making a strong first impression on someone in the digital realm. Social media platforms offer the best path for this as part of your inbound marketing strategy by encouraging a new friend or follower, a virtual stranger, to venture further down the buyer's journey with you.
Review Your Online Presence to Make a Powerful Initial Impact
Take a moment to consider how your website and social media profile pages look and feel from your marketing persona's perspective. Are you presenting what they expect to see? Run a search for your business on the web and see, through their eyes, how you are found online and what you look like once you are found. Considering the pain points of your marketing persona, the things they might find useful, examine your online image by looking to see that helpful content stands out and sales messaging is subtle. If there is not enough relevant, timely content available to support your image as an expert in your field, add more and make sure it's useful to others and not just self-serving. If you feel that your online appearance is not attractive, you can be sure that your inbound audience feels the same way. The first step towards implementing a successful inbound marketing strategy is to know what your buyer personas are looking for and prepare accordingly.
Create a Cohesive Brand Experience All Over the Web
Once you have created some solid content on your website that helps people solve problems relevant to your area of expertise, you can then focus on the design of your social media channels and how you'll share the content. The way your tweets, posts, pictures, and blogs look should present a cohesive brand image. A look and feel that people readily recognize as yours and ties everything together from one platform to the other for displaying your content.
Binding things together in a visual sense leaves a strong first impression and contributes to building a foundation for a successful online identity to support your inbound marketing strategy. Seemingly minor subtleties, like your choice of avatar, colors, media selection, and other social media nuances really do make a difference. Make all the right choices and it will be the digital equivalent of a welcoming smile from a familiar friend and a recognized personality.
Help People Find You Using Social Media
Once you've polished up your social media's content and image, you're ready to take advantage of the many avenues if offers for amplifying your messages. Think of your social media channels as signposts all over the Internet, guiding people to your website. Social media posts are samples of the bigger collection that's just waiting to be seen back at your place. The individual posts just lead people to it. Make it a routine to provide a fresh, steady stream of content to share, tailoring some of it to each specific channel. The more content you post – the more helpful you are – the more relevance and appeal your total online presence will rise. A strong and more importantly warm and engaging handshake, indeed.