Let's face it – as marketers we are always looking for ways to improve, or sometimes just prove, ROI. Using marketing automation software gives us the leg up and increases our chances for success. In fact, those who use marketing automation software are more likely to see a higher ROI than those who don't according to the 2015 State of Inbound report.
But marketing doesn't live in a bubble; the relationship with the sales department is critical to our success. You only have to review the data to see the correlation.
Want to Increase Your Marketing Budget? Get Sales on Board!
Most sales departments use some type of CRM, or at least they most likely have one, whether or not it's actually being utilized is another story. Research for the SOI report found that salespeople struggle with a lack of information about their leads and manual data entry -- two challenges that necessarily reduce their effectiveness at converting leads to customers. In other words, just like your marketing department's lead generation is of prime interest to sales, it would be wise for you to take the problems sapping sales' efficacy to heart.
Why? Because it has a direct impact on your success. According to the SOI Report, marketers who were involved with the sales software purchase decision were 13% more likely to see a positive ROI, and 11% more likely to receive an increased budget. (Who wants a bigger budget? Marketing does!)
Marketing's Involvement in Sales Software Decisions by ROI
Smarketing tech alignment pays off in ROI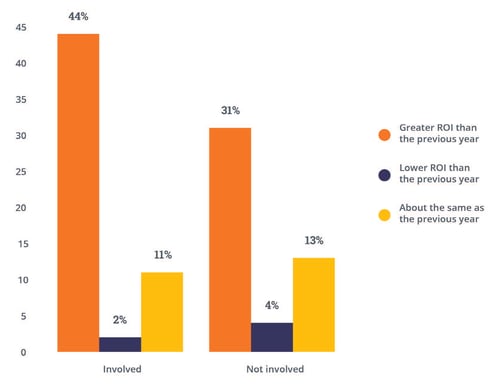 Marketing's Involvement in Sales Software Decisions by Budget
Marketers who get involved in sales tech get higher budgets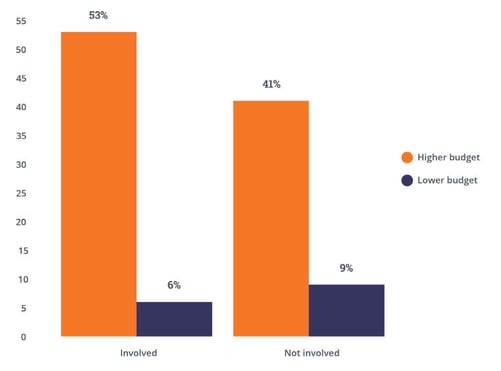 Still not convinced? In addition to increased budget, the presence of a Marketing-Sales service level agreement also leads to staff increases.
What Happens to those MQLs?
Communication between marketing and sales is critical – not only between the people in those departments but between the software used by both departments. Your automation software shows the activity and quality of the leads that you are delivering to sales. If the sales team doesn't have a view into that activity in their current CRM, or worse yet, doesn't use their CRM at all, then all of those wonderful leads that you're delivering are dying on the vine.
When there is alignment between the two departments and the software that they use, you also gain insight into how those MQLs convert into customers, or if they don't convert at all. (Think this might help with lead scoring?)
What is the State of Inbound?
If you're interested in learning more marketing and sales trends, download the full State of Inbound 2015 Report. It is a compilation of survey responses from thousands of the world's foremost marketers and salespeople – HubSpot customers and non-customers.
In addition, considering that aligning marketing and sales practices is critically important to a company's success, this is the first time the report contains both marketing- and sales-specific results -- as well as areas where the two intersect.
This year's State of Inbound report is truly a global document, with more than 150 countries represented. The majority of our nearly 4,000 respondents are marketers who work for B2B SMBs, and only one-third have an affiliation with HubSpot. Half of the companies represented generate under $1M a year in revenue, and the other half generate over $1M.