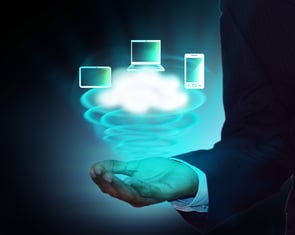 How do you sell what cannot be seen?
That's the question everyone responsible for SaaS marketing has to answer—and it's not always easy.
Marketing SaaS offers a variety of challenges, not the least of which is its lack of a physical presence. It's always changing. Its moniker is strange. And then there is the fact that most consumers don't even know that a SaaS solution to their problem exists.Sometimes software marketing isn't for the faint of heart. It's different, and here's how:
Sometimes giving it away actually makes sense
If you were marketing a book, car or high-end hard drive, you wouldn't want to be giving away a lot of your products. Sure, a sample here and a sample there might make sense. But giving away the product in its entirety? Not so much.
Except that is a tactic that can work very well when you're selling low price-point SaaS and even higher priced B2B solutions.
In fact, giving away SaaS can be effective in customer acquisition when paired with the good/better/best approach used by 58% of software companies who publish their pricing on their websites. If a free option doesn't make sense, offering a very low priced "good" subscription option can serve instead.
It moves quickly
When it comes to the SaaS sales cycle, you might want to buckle up because it may not last very long. Unlike other business-to-business sales cycles, people who decide to try out a SaaS solution don't like to do a lot of homework. Nor do they want to spend a lot of time weighing their options.
They simply want the right solution as quickly as possible.
This means that demand changes like the weather. SaaS marketing professionals need to be ready to respond quickly by investing in the areas that can deliver high-quality leads more worth their direct engagement time. This means constantly testing the elements of your inbound marketing strategy and having a routine for amplifying on what's working and taking away what isn't working.
Churn is a major concern
According to a study conducted by ProfitWell, churn is the biggest challenge facing SaaS marketing professionals.
Churn occurs when customers stop using your product. Some make the conscious decision to cancel their accounts. Others simply let their accounts expire without thinking about it. Either way, churn has dire financial consequences.
Because retention is the best way to build a successful SaaS business, it's important for you to know why customers are no longer using your product, improve the product, and find ways to stay engaged with your audience as part of your inbound marketing strategy. Attracting, converting and closing are great, but the final stage of inbound, "delight," can really pay off in the software sales arena.
Security is a major concern
Every company in the world is concerned about security. That makes your job more difficult. After all, you're selling what can't be seen. Focus some of your inbound marketing messages on security and selling will likely become easier.
Devoting a portion of your content generation efforts to educating your audience on security concerns can go a long way toward building trust. If you can point to external sources to support the information your sharing, all the better.
They'll know they need it when they see it
Many companies know they have a problem, but they have no idea what the solution looks like.
Sure, you know your software inside and out. You've tested it and re-tested it. You know with precision that it works. But your prospective customers don't necessarily know about it.
This issue likely goes beyond brand awareness. Heck, they might not even know an option like yours is even possible. So you've got to educate them of the possibilities by using the language that surrounds the problems your software solves or the common solutions people use to resolve them. You've got to be there when they go online looking for a solution, and you've got to be ready to reach out to them once they make contact with your company.
This means having a well-developed marketing strategy that uses every tool available—online ads, emails, LinkedIn groups and SEO working together—to manage different parts of the workload involved in engaging prospective customers at every point of the buyers journey.
It's about selling solutions
At the end of the day, selling SaaS is all about selling solutions that don't create more headaches then they solve. To do that, you're going to have to provide value as you engage, educate and address the pain your customers are feeling—and what you can do to get rid of it.