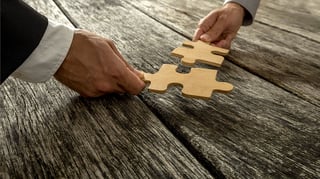 They say many hands make light work, and they often result in better work. This is why modern healthcare marketing should take advantage of partnerships and alliances that facilitate better physician-patient engagement and improve healthcare outcomes.
Post-war healthcare models have patients, physicians and insurance companies operating in seemingly separate spheres, with virtually no overlap. This has made for a serious disconnect.
Today, between the realized potential of inbound marketing opportunities, social media interactions, patient portals and other IT benefits - it makes sense to leverage partnerships and alliances to improve quality of care that, in turn, boosts brand recognition.
Take Advantage of Existing Partnerships and Alliances to Provide Better Care
This concept is in no way new. HMOs were designed around the model that bringing the best and brightest minds together would result in better, stronger and more successful medical practices. The difficulty resulted in the fact that once allied, those forces united in a more singular unit that then became isolated from the larger, healthcare community.
Today, forward-thinking healthcare practitioners and marketers are looking for ways to foster partnerships and alliances while maintaining a measure of autonomy and independence. This can happen in several ways.
Form partnerships with other providers
Now that digital records can be systematically updated, added to and shared, it makes sense to find ways to partner with other providers so patients receive streamlined, efficient and high-quality healthcare from their GPs and specialists. This sounds great in theory but has been more difficult to execute in practice.
In a 2014 comprehensive evaluation of various collaborative healthcare relationships, authors found the most successful of these collaborations - in terms of profit as well as patient satisfaction - took place in smaller groups where physicians had a sense of ownership and actionable benefit from the alliance. The author writes, "physicians balk at partnerships in which they have little power," and this makes sense.
If you are interested in collaborating with other partnerships, we recommend reading, Collaboration Among Health Care Organizations: A Review of Outcomes and Best Practices for Effective Performance, and following its Checklist for Managing the Implementation of Collaborative Ventures, which outlines what you can do to ensure the efficacy and success of your efforts.
Work closely with insurance providers and healthcare organization
Transparency is a top 5 buzzword in the modern medical community. Online access gives patients and clients the opportunity to "shop" for healthcare providers by reputation as well as cost. The more transparent and communicative you are about cost and benefits/payment options, the more trustworthy you seem to patients.
Consider working more closely with various insurance groups and other niche-oriented healthcare organizations to grow your network. Organizations like Partners For Better Care can be a great place to start.
Partner with the ones who matter most - patients
Healthcare marketing makes it possible to form stronger alliances and partnerships with the ones you serve - patients. Optimizing online and digital formats - like patient portals - as well as community collaboratives and good ol' fashioned one-on-one patient care equals quality care.
You can read Top Marketing Strategies for Your Patient Portal to learn more about one of the most powerful healthcare marketing tools to date. Then, read, Improving Healthcare Quality Through Community Collaboratives, for an overview on how certain communities around the nation have used community alliances to notably improve patient satisfaction, engagement and outcomes.
Finally, remember that each physician-patient encounter is a prime opportunity to make patients feel they are in true relationship - or even partnership - with their physicians. Take time to review charts, check-in and really listen to patients so you provide the best care their money can buy.
What can your healthcare organization do to stretch a little further, and grow a little deeper, to leverage partnership and alliance opportunities? The next phase of your brand development might depend on it.