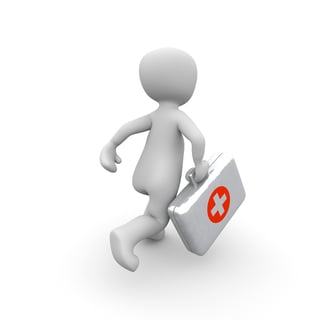 At the core of high-quality healthcare is high-quality human relationships. In order for sustainable listening, understanding, and healing to take place, patients have to trust their healthcare team. They may not need to love them - although that's certainly a major bonus - but they do need to trust that they're in the best of hands.
Regular patient engagement is one way to develop and foster that level of trust between your healthcare website, the healthcare team and staff - and both current and prospective patients.
What Does Patient Engagement Look Like?
Before we talk about how your healthcare marketing team can increase patient engagement, let's look at what healthy, positive patient engagement is - as well as what it looks like.
Our favorite, straightforward definition of patient engagement comes from HIMSS. It is, "providers and patients working together to improve health." Because, as they continue, "a patient's greater engagement in healthcare contributes to improved health outcomes...and those...engaged as decision-makers in their care tend to be healthier and have better outcomes." That's a goal worth striving for.
In practice, healthy patient engagement means a busy and active website, a regular blogging schedule with content oriented to a variety of ideal patient personas, an ever-growing network of social contacts, and a patient portal that is buzzing with activity. You'd also notice it via an ample supply of positive online reviews and a general helping of word-of-mouth referrals.
Strategies For Increasing Patient Engagement
Now, let's look at some of the healthcare marketing strategies you can leverage to enjoy positive patient engagement that keeps your brand moving in the right direction.
Identify your ideal medical persona(s) and develop the ones you have
If it's been a while since you created patient personas, go back to the drawing board and see if there's anybody you've missed. Could there be a latent patient demographic already present in your rosters that are left out of blogs and social media posts? Close those loopholes up and continue producing content that's targeted to the patients you serve and the ones you're trying to attract.
Utilize patient portals
Continue to market your patient portals and create information that ranges from Patient Portal 101-style information to the highlighting of some lesser-known but highly effective portal features - like prescription renewals, direct communication with doctors or the ever-important bill-pay options. When patients receive personalized reminders and relevant tips, they feel seen and tended to. Patient portals are also a vital, post-discharge and monitoring periods - increasing patient health and reducing readmissions rates.
If you haven't already, consider installing patient portal kiosks in every waiting room. In addition to "gently forcing" patients to engage with the portal to check in, it also allows a chance to updated current contact info, ask questions or provide feedback. You can also prompt them to make payments, which increases medical billing efficacy.
Make it easy to share, promote and review
Social media and your brand's online reputation seriously matter when it comes to attracting new patients. Some surveys have shown that as many as 41% of patients pay attention to what others say about potential healthcare providers before making an appointment or deciding to explore the provider on their own. Healthy patient engagement fosters a sense of trust and caring, and that will be reflected in patients' desire to share how great you are with others. Make it easy for patients and prospects to share your awesome content and to leave great reviews.
You're in this business to take care of people, but healthcare marketing is still a business. Increasing patient engagement fosters patient satisfaction - and that's optimal for everyone involved.