Modern Healthcare Marketing Strategies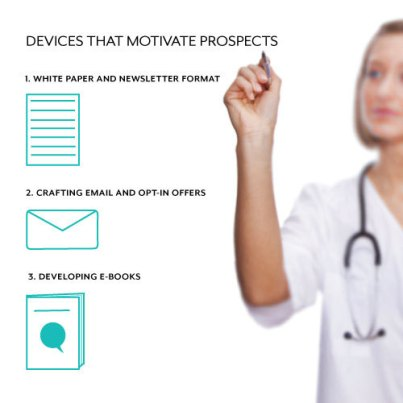 Every day, professionals inquire about modern healthcare marketing strategies in hopes of attracting leads and growing their customer base.
Contrary to what you typically hear, there are surefire techniques that propel a website into the spotlight. A staggering number of marketing gurus put faith in social media marketing efforts, while many others believe the answer lies within genius SEO services. The fact is content creation is the one dominant factor in a modern healthcare marketing strategy that sets every website apart from the pack.
The Devices that Motivate Prospects
The most powerful psychological principles of every website are the words. It's not about manipulating people but rather about utilizing your understanding of human nature to persuade your audience.
When your visitors arrive to your site they quickly scan for topics that interest them. This means you shouldn't litter your website with subjects that distract the reader. Your website must provide the specific information visitors are looking for, complimented by psychological devices that trigger emotion, making your products and services irresistible. Consider these mind-changing mechanisms:
White Paper and Newsletter Format
Writing promotional reports in white paper format can be one of the most profitable healthcare marketing strategies you employ. Information in healthcare marketing is a hot commodity on the web. To achieve the goals the free report must:
Provide useful content related to the service or product you offer
Be written to position you as an authority in the field
The important thing to remember is that a white paper format contains valuable, unbiased information that is above all, informative with subtle, scant sales copy that flies under the radar of the reader. Also, credible healthcare marketing copy doesn't use superlative adjectives and phrases that scream promotion, like 'amazing' and 'spreading like wildfire'.
Crafting Email and Opt-In Offers
Capturing contact information is fundamental to the success of any business enterprise today, and yet many healthcare professionals have not taken advantage of using opt-in offers as a lead generation tool. By crafting irresistible offers and then following-up with email messages designed to build rapport, you can convert the audience to prospective clients.
Therefore, you need to make your opt-in offer as compelling as possible to convince your visitors to provide their email address and contact information. How do you compliment your healthcare marketing with emails? You provide the best-kept secrets that translate into amazing savings. Visitors are typically looking for you to solve a problem. They want appealing benefits with instant gratification and you assure them you are the authority on the topic.
Developing e-Books
Without a doubt, valuable information is the heart of healthcare marketing and one of the best ways to build traffic.
Credibility gains a boost and people quickly acknowledge you as an expert in your field
It keeps you in touch with your audience and the distribution of your e-book constantly places your business in front of prospects
E-Books cost little to nothing to produce and promote on the web
The Dynamics of a Healthcare Marketing Strategy
Getting someone to click on a link isn't easy – it requires work. You must provide compelling content that is limited and so valuable that visitors feel you're the best choice. So much of your success depends on your healthcare marketing efforts and ensuring that you are using a modern marketing strategy. When you have the proper mechanisms in place, success becomes inevitable.