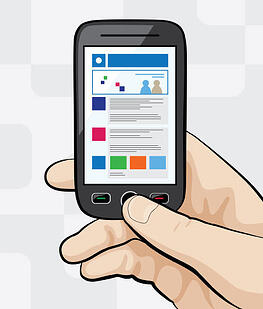 It's not difficult to see why mobile marketing is beginning to blend so well with qualified lead generation. Our mobile devices have become so embedded in our daily life that daily marketing seems to escape the consciousness. Mobile advertising has become a reality, and experts speculate this form of advertising will outpace mainstream promotions.
Since 2008, consumer behavior has rapidly shifted, embracing the new digital revolution. 88% of adults in the US have a cell phone, which has become the dominant communication tool in the United States.
Even more importantly, as of December 2012, click through rates on mobile devices were an astounding 72% higher than on laptops or desktops. The rapid explosion of smart phones, notebooks, and tablets, complimented by consumer behavior, is motivating the growth of search clicks on mobile devices.
Why Your Business Needs Mobile Marketing
Your main focus is to generate appropriate sales channels and target your client base, right? Well, your client base has migrated to mobile devices, and qualified lead generation is fast becoming a utilized tool, so you should follow.
Market penetration: would you believe there are more mobile phones than people. Mobile devices have become the preferred means of communication for young people and adults, with medium and high purchasing power.


Continuous connection: these devices have become an extension of our survival. We are "connected," consistently and effortlessly. We do not need to sit at the computer, or open an email, or a specific website. Everything is accessible with one click. This provides instantaneous gratification, still higher than that of an online campaign aimed at fixed devices.


Optimizing mobile channels: gone are expensive and slow mobile internet connections. Today, consumers can easily browse sites. Through simple changes to CSS, developers can have a fully-functional mobile website within moments. The current navigation is easy, fast and, thanks to competition between phone companies, increasingly affordable.


Segmentation and customization: another reason for using mobile devices as a marketing channel is that it enables greater identification with the advertiser.


Measurement: mobile marketing campaigns are measurable in real time, and you can modify campaigns from the moment of its release if we find where it can be improved.


Solutions to immediate problems: consumers thrive on impulse purchases, which can mean immediate profitability. Of course, a mobile device does not arrange the holiday trip, or prepare the necessary documentation required for those countless vacations, but businesses can take advantage of products and services when they are displayed as a "great opportunity" for the consumer. This by far has shown how qualified lead generation blends well with mobile devices.
Gradually, more and more users will adapt to these technologies and within a very short time, will be part of our daily lives.
Optimizing Usability
There are still gaps among an estimated 2 billion mobile users and e-commerce. Far too many companies still ignore the consequences of improperly optimizing their websites to mobile devices. 61% of users leave a page if not optimized for their smart phone.
A properly optimized mobile site expands sales opportunities, and the bottom line is users hate wasting time. While a third of them would prefer to make purchases through these small devices, the sites must favor such an action. Are you ready to leapfrog the competition?
Mobile marketing provides customers with a personal experience that can be adapted within minutes. There are no aggressive pop-ups or unnecessary bells and whistles, which have been ineffective at increasing sales, and saving money and time. Businesses are pleasantly surprised at the subtle changes of mobile advertising and the effective means of nurturing qualified lead generation.