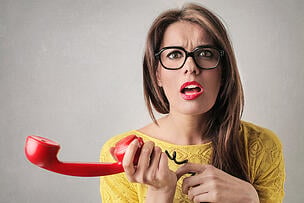 As a business owner, I get my fair share of cold calls. You could even say I'm a sucker for them. When they're done well, it interests me to hear the approaches and how people present themselves on the calls.
The cold call I received last week has to go on record as being the absolute worst. A few weeks ago, I received an invitation to a webinar that had multiple sponsors. The topic seemed interesting, so I signed up. Circumstances got in the way and I ultimately wasn't able to attend. The next day, I got a really bad cold call from one of the webinar's sponsors, a marketing/email automation software that targets small to mid-sized businesses.
Here's how the conversation went:
Salesperson: I see you attended XYZ webinar yesterday.
Me: No, I'm sorry, I wasn't able to attend.
Salesperson: Would you like to see a demo of our software?
Me: No, I'm not interested. I use HubSpot and I'm really happy with the software.
Salesperson: So why did you sign up for the webinar?
Me: The topic seemed interesting and I got an email inviting me to attend.
Salesperson: Well, our software is much cheaper than HubSpot.
Me: It might be, but I'm really not interested.
I was really perplexed by this disturbing call and thought a lot about it later.
What the Salesperson should have tried:
Establish a relationship with me at the beginning of the call.

Build credibility and trust by explaining things that would benefit my business.

Begin the qualifying process to see if there was a need for his software.

Then decide if I was a good fit for a demo.
Cold calling, even when done well, is not effective. Cold calling done poorly is a recipe for failure. The information below is based a blog article by John Janstch, The Abusive Math of Cold Calling
"Cold calling results in about a 1-3% success rate for getting an initial appointment and it's generally abusive to both parties. When that same call is made with a referral, the rate jumps up to 40% and even much higher when that referral comes from within the company.

The conclusion anyone should make from the gap in these two points is that you should never leave the office or get on the phone to call on a prospect without some form of a referral. In fact, if you've got a hot prospect, you should probably wait to find someone who can refer you or you might just waste any chance of getting in the door."
The goal of this cold call could have been to see if I needed a marketing automation software and if his software might be a good fit. Was the cost of HubSpot software even an issue with me? If not, were there other advantages his software might provide?
The tone of Salesperson's call could have been much different. Could he help me with something? Could he educate me? Instead, Salesperson tried to initiate guilt for attending a webinar and to have that guilt push me into a demo in exchange for signing up for that educational webinar his company had partially sponsored.
So, next time you make a sales call (cold call or not) remember to show an honest interest in your prospect. Be polite and establish a relationship, be helpful and work to build trust, ask questions to see if your product or service is a fit, then slow down your sales process - and you just might make that sale.