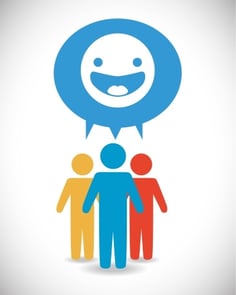 As a result, SaaS businesses have their own unique challenges to consider when developing a marketing plan. Customers are often savvy buyers who can be fanatical promoters with the right SaaS marketing approach. So, how could the nature of this customer base be best leveraged to create an engaged community of users? It's clear a one-size-fits-all approach is not the answer. Instead, you need a marketing strategy that works well with the essential qualities of SaaS while offering room for personalizing your message.
The answer lies in inbound marketing.
How Inbound Marketing Works with SaaS
The SaaS market is quickly becoming one of the fastest-growing industries worldwide. In fact, global revenues are predicted to reach $106 billion next year. There's still a lot of room for expansion and development, but let's face it: The more an industry grows, the fiercer the competition gets.
Take a look at traditional outbound marketing methods – methods like sending email blasts, buying ad space, and paying for leads. You'll see most of them are intrusive means of attracting customers' attention. Instead of meeting leads and customers where they are and naturally drawing them towards you, these interruptive efforts try to quickly push them through the sales funnel without much regard for the buyer's journey.
While these outbound marketing efforts do occasionally pay off and seem effective in the short run, they come at a price. HubSpot, the brains behind inbound marketing, has revealed that businesses that use outbound marketing spend an average of $346 per lead, while businesses that focus on inbound marketing spend an average of $135. Most businesses don't have the extra money to spend on marginally effective tactics. So it makes sense (and dollars and cents, too) that inbound marketing is becoming the preferred practice for businesses around the world.
However, there's an even bigger advantage to inbound marketing that blows outbound out of the water: Because it's customer-centric, inbound marketing drives engagement by providing content that's helpful, relevant, and interesting to your customers. Consistent efforts create a natural draw toward your company and provide opportunities for personalizing your message in a way that engages your audience.
Best Practices for Creating an Engaged Community
Both SaaS and inbound marketing meet customers where they are and show them where they want to be. SaaS customers are already accustomed to having access to flexible services that can meet their ever-evolving needs in business. It stands to reason, then, that they would gravitate to a more natural, customer-centric style of marketing as well.
With inbound marketing you'll be able to scale your efforts and move customers from simply being aware of your products or services to actively promoting them without much push or pull. To make this happen, your inbound marketing agency should follow these SaaS marketing best practices:
Put your customers' interests and satisfaction at the forefront of everything you do.
Focus on blog articles that answer questions and solve problems (rather than explicitly promote or sell).
Report on trends in the SaaS industry.
Create content for industry "newbies" (i.e. case studies, success stories, and how-to guides).
Leverage your middle base with troubleshooting/optimization tips, best practices, and updates on new features.
Make the most of your loyal customers with personalized advice, expert guidance, and special offers.
Use downloadable premium content as a lead generation tool.
Give away information to establish trust.
Don't be afraid to ask your customers what they'd like to see more of from your marketing. Your social media accounts are some of your most valuable and leverageable resources for curating content, getting feedback, and brainstorming ideas. They are also a great place to start truly engaging with your audience.