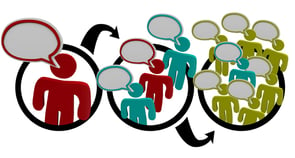 When your software marketing life revolves around benchmarks, stats, A/B test results and analytics, you might forget that customers are people too. Digital marketing makes it easy to turn people into numbers, rejoicing when the numbers are up and re-strategizing when they take a dive.
One of the ways to give sagging metrics and sales a boost is to take numbers out of the equation and reacquaint yourself with the power of the people.
Word of Mouth Referrals are a Serious Inbound Marketing Perk
The goal of all those metrics, stats and analytics is to increase what's working in the inbound marketing formula, right? But we often neglect that the precursor to digital inbound marketing was human-to-human inbound marketing.
Friends, relatives, neighbors and other satisfied customers have always sent their own friends, relatives and neighbors to the businesses they trust most. That is inbound marketing at its finest.
Case in point? A 2016 partnership between Business2Community and Nielsen's Harris Poll Online revealed:
82% of Americans check in with family and friends before making a purchase.
67% of buyers say they're more likely to consider a purchase if they've seen friends or family recommend it via social media or email.
Those most likely to respond to word of mouth referrals are between the ages of 18 and 34 and have household incomes of $100K+.
Don't neglect the power of referrals that come via your satisfied customer base.
Software Marketing Tips for Boosting Word of Mouth Referrals
You see, while website performance and SEO marketing strategies matter, deep down customers know that you pay for those PPC ads and that you can hire writers to post positive reviews. The proof, as they say, is in the pudding.
Here are suggestions for improving your SaaS company's word of mouth referrals:
Be active in social media. Social media action is important for building brand identity. Going above and beyond blog and offer promotions—truly connecting with individual followers—can take you far. Start figuring out who your biggest fans are and then connect with them more often. Their social media influence is a powerful boost to your dedicated marketing efforts.


Make personal connections at industry events. Industry events and trade show opportunities are a great way to form truly personal connections with current and would-be clients. Research which industry events expose you to the largest target audience, commit, and then promote your presence like crazy. Eye-to-eye contact, handshakes and an industry presence will boost new and existing clients' enthusiasm about your product. Plus, these events allow you to demonstrate how your product works firsthand and with more personalized Q&A and/or tutorial sessions.


Create awesome email content. Email marketing is one of the biggest winners in terms of ROI—if you're doing it right, of course. Entrepreneur.com shares that email marketing done right yields $44 for every $1 spent, that nurtured leads increase sales 20% more than cold leads, and that emails generate 50% more sales. Additionally, email marketing provides an opportunity to nurture clients at every stage of the buying process. However, that requires growing your list organically and knowing how to segment it so everyone remains eager to open the emails you send out. Since 67% of buyers listen to what friends and family say about things via social media and emails, your awesome, sharable email content is a smart way to perpetuate the word of mouth buzz you're looking for.
These suggestions for word of mouth referrals are just as accessible to DIY software marketing teams as they are to the professionals. Isn't it time to get more people talking about your company's software solutions?