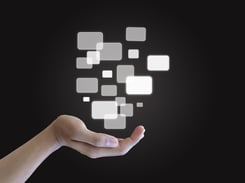 In many ways SaaS marketing creates its own unique set of challenges that other B2B companies don't face. Debating whether or not to give your product away as a free trial to get someone to buy is not a decision you have to make if you're a commercial engineering firm or a large accounting firm. Marketing your SaaS product means you need to have a clear vision of your product and the need it fills as well as the type of sales model it falls under (self-service, transactional, or enterprise).
Giving Away the Store
However, just because you are a SaaS company doesn't mean that offering a free trial is your best course of action if your software is robust with features that take more time to properly implement. If it's complicated (i.e. an enterprise sales model), chances are you have a longer sales cycle so turning someone loose to play with the product will not create the best user experience. Instead, you might offer an on-demand demo of the software, with a 90-day trial that includes support. If you're in a hyper-niche industry, this is also an excellent way to distinguish someone who is truly invested in your solution versus a tire kicker.
At the other end of the spectrum, for a SaaS company with a self-service-based sales model, offering a free 15 or 30-day trial (with or without a credit card) makes perfect sense. If customers are easily able to compare your product to a competitor's by simply using it, then make it as easy as possible for them to commit.
Let Them Eat Cake
Unless you're FreshBooks, you don't actually have to send cake (See "User Experience is Key" for an explanation), but you must focus on exceptional customer service. While this is true for all companies, it's especially true for SaaS companies.
Technology is always changing; there is and will always be something better, faster, more feature-rich. But having exceptional customer service and support will galvanize your client base like nothing else. Have poor customer service and support and not only will you lose clients faster than you can count, they will share their experience with ten of their friends.
Use what you've got
Your SaaS marketing strategy will vary based upon your sales model, however, remember that the longer the sales cycle, the more resources you should provide to nurture your prospects down the sales funnel.
As with most companies, you likely have a lot of these resources already, you just may not be leveraging them properly. Webinars, tip sheets, case studies, are all among things that you can use to help your prospects see the value of your product. Presenting these resources to your prospect based on the life cycle stage they are in will give your lead to customer conversion rates a boost as well.
I also mentioned earlier about offering support during an extended free trial of your software. This can be something as simple as a series of automated emails that guide your prospect through a set of exercises or related to known challenges that people encounter when they are on-boarding.
SaaS marketing, though it presents a few unique challenges not faced by all companies, still follows the same basic principles of B2B marketing. Approaching your clients and prospects from the position that you understand the problems that they face in their business and that you have the solutions to those problems is a lot less like "marketing" and a lot more like "relationship building."