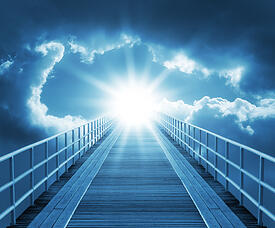 Announced this week at Inbound 2014, HubSpot is revolutionizing sales in the same way they have revolutionized marketing by launching an integrated CRM tool. According to Brian Halligan, "We started HubSpot because we felt the way consumers shop and buy had fundamentally changed. The inbound movement has helped transform the world of marketing, and we really feel like there's a huge opportunity to transform the customer experience with sales technology that enables companies to sell more, better, and faster."
As you would expect, HubSpot CRM is built to be intuitive and automatic unlike other CRMs. Our experience with CRMs that we have tried in the past, more time was spent adding records and details than actually selling. Ultimately, they were abandoned due to the extra work they created for sales.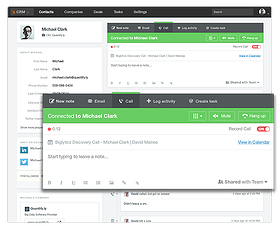 HubSpot CRM was easy to use from day one. Having a shared database with marketing means that information isn't duplicated but updated as needed for both departments. Even better, it works in the background organizing every interaction between you and your contacts. (Yes, that includes emails, phone calls, and social media touches!) Did I mention that it also records your calls? (Shown in the image to the left.)
So, let's quickly run down the list of what HubSpot CRM offers (After all, you are in sales. You don't want to spend time reading a long post):
A database – of course. Companies, contacts, deals and tasks. It will automatically create company records and associated contacts, plus it de-dupes so you don't have to.


Timeline – offers the high-level view that we sales people LOVE. It organizes every touch – emails, calls, notes, website visits into one, simple view.


Email – yep, you guessed it. It connects to all of them; Gmail, Google Apps, Outlook and, my personal favorite, Apple Mail.


Phone integration – this is an additional cost but well worth it. It allows you to make a call with just one click within the CRM. You can automatically log notes AND record the call.


Google Calendar integration – see your scheduled appointments and create new ones without ever leaving your CRM.


Data enrichment – like having your own little private investigator. Instantly see background information, key employee details, social data, related companies and more.
In the same way that HubSpot has empowered us to deliver marketing that people love, it is now empowering sales. "The traditional sales process is broken. Instead of "always be closing," the next generation of sales leads will "always be helping." says Halligan.
If you're wondering if this is the right tool for you, I'll leave you with this thought. With this integration, HubSpot has made possible a synergy between marketing and sales like nothing we have ever experienced. Finally, there is a system that has everything all in one place (website, social, marketing, and sales) allowing you to focus on what you do best.