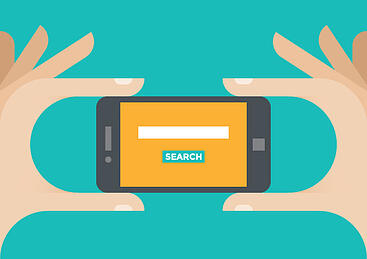 If the first image that comes to mind when you hear "Internet user" is someone sitting at a desk, moving a mouse around and staring at a 17-inch monitor, then your imagination is due for a reboot. Today's users – from casual shoppers to healthcare patients – are just as likely to be tapping as they are clicking.
Mobile Internet usage has increased dramatically in the past few years and continues to spike as smartphones and tablets become more diverse and data plans more affordable. The rise in usage holds a lot of impact for businesses, and an SMB may dismiss mobile at its own risk: "It's easy for site owners to push aside the 10% of visits that were coming from mobile last year," wrote Moz.com recently, "but what about the end of 2013, when 20% of Internet traffic is projected to be mobile?"
When you're talking about any channel of inbound marketing, of course, you're talking about search engine optimization (SEO), the means by which your website, blogs and other content are identified, indexed and placed on search engines. But even SEO has changed. No longer just a bunch of keywords, SEO has come to represent the holistic way that people conduct their searches. Good SEO is vital to your online marketing efforts, because content that places lower than the first page of Google may as well not place at all!
And Google has let its thoughts be known on the subject, going as far as demoting – assigning lower rankings – to websites that are not mobile-friendly.
Google likes … accessibility and credibility. "As Google loves to remind the world, they look at search from the user perspective, says All Web Café. "When it comes to mobile, if the content on your site serves its purpose and performs well with users hitting it on different devices, then this change shouldn't have an impact on your rankings. But if your site lacks a good mobile experience, and you have competitors with great responsive sites, Google is likely going to use these ranking changes to deliver your competitors' sites instead of yours on certain devices.

Google dislikes … spam and programming gaffes. The same black-hat tactics that trigger Google's spam-busting Penguin and Panda algorithms apply to mobile sites. As well, Google is targeting smartphone programming errors, such as pointing interior site pages to your mobile home page, as opposed to a mobile version of that specific page.
Finding your way
As search engines and their users continue to evolve and become more sophisticated, a good SEO services company can be your best asset for integrating your website with today's mobile devices. You can expect an agency to know the best platform for mobile integration (responsive design vs. separate app) and how to best format your information to make it meaningful to the person who matters -- your customer or prospect.