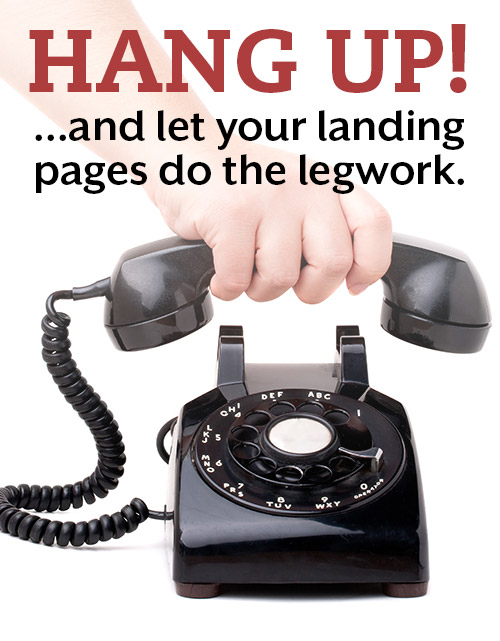 Though the Internet has changed the way B2B clients and B2C shoppers approach a prospective vendor, some things never change – like your need to separate the full-speed-aheads from the dead-ends among your leads.
Every minute a sales rep spends pitching to an unqualified lead is a minute wasted and money drained. In years past, effective lead generation may have centered on cold calls. Today, your website's landing page does much of that legwork.
Happily, this technology delivers two advantages:
It fits the way people use the Internet; and

It helps sales reps better prepare to communicate more personally with the leads most likely to convert to customers.
Four tips for your landing page
Creating a landing page is an art in itself: not enough detail and you will have trouble qualifying the lead; too much detail and the visitor may "bounce" away in frustration.
Learn from your best sources
Design your landing page according to the text, images, CTAs, forms and offers that qualified leads would find most beneficial. And how would you determine that? By testing your page on people you've already converted. Ask your best customers to assess your landing page and provide feedback. Offer a small token of gratitude, such as an Amazon gift credit, for their efforts.
A persona is a fictional representation of your ideal customers. This remarkable tool helps you reconsider your long-held assumptions about your target. Using highly detailed profiles helps you tailor your landing page content and reach the people most likely to offer qualification details.
You're asking a lot from your leads – personal or professional information, permission to contact them – so make it worth their while with something that resonates with them – an exclusive whitepaper, report or interview; or a free trial or consultation. You'll know what to offer based on those meaningful encounters with your current customers or the knowledge you gained from creating personas.
Your landing page is a work in progress – forever. Measuring, analyzing and revising page content is part of the process. Everything from your messaging to your offer can be tracked and measured against conversions. You can then use this data to do some A/B testing to see how you can net even better results.
Three tips for your reps
If your lead has already offered his age, occupation and title, your reps need not spend time on such basics. Instead, the rep should use the tools at his disposal to analyze the landing-form information and ask informed questions from there.
Sometimes, a phrase as simple as, "Is there anything I didn't ask you that you would want me to know about your needs?" is enough to trigger some original responses from your leads and qualify them more efficiently.
Ditch the (immediate) pitch
Today's effective lead generation is based on establishing a relationship of trust and credibility. So don't start with the sales pitch. If you have qualified your leads based on landing-page activity and personas, your reps should be in a position to speak about each prospect's unique needs.
Twin tactics that work
Effective lead generation takes place in a digital environment, but also includes the important human element. Combining the powerful landing page with the insight and expertise of the sales rep sets your company up for the most desired outcome: long-term customer relationships.
Want to learn more about how this all works?