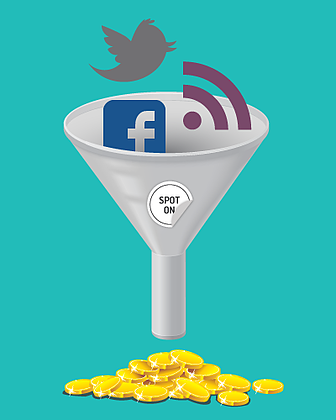 A well-crafted landing page design can generate traffic on its own, but add in the newest cultural trends, such as social media and blogging, better known as Web 2.0, and you'll strike gold. Of course, simply throwing up a blog and signing up for Facebook won't guarantee customer acquisition and retention, but a mix of simple strategies will undeniably generate results.
Why the Need to Socialize
How would you like a first-hand account of everything that goes on within a business? Perhaps measure how customers feel about your handiwork? Or simply test the market tonight with bits of information and analyze the outcome tomorrow? This is the type of real-time power social networking offers.
Like it or not there has been a monumental shift in power and the online consumer is in full control. One angry customer will spread the word to 100 other people about their experiences – good and bad. And with the use of social media, like Facebook, LinkedIn and Twitter, overnight, those 100 people can multiply to 100,000. Just think of the possibilities - wouldn't you like the opportunity to influence, prompt and persuade prospective clients to embrace your business? Combine a great landing page design with social media and blogging and watch the sudden impact.
Social Media websites are like attending an on-going networking event, a trade show or maybe a debate. While various conversations are erupting at the speed of light, businesses are broken down or praised. Either way, you have an opportunity to motivate the crowd.
Creating a Social Journal
Bloggers share opinions in every genre. It's like placing your diary online and allowing millions of people to comment. And even more interesting is consumers still want more. The most distinguished element of blogging is that it represents a revolution of sharing information and expertise. You can capture knowledge from every level of a company, dissect it and explore how to use it to your advantage.
Sharing to Build a Network
Finally, why take part in both social media and blogging? Social media is an adjunct to your landing page design and blog. It's an opportunity to show people what you've built and also gauge its worth. They compliment each other within your network and operate side-by-side; social media rings the siren and blogging clarifies the position, while your landing page design cements the strategy and functions to convert your website visitors into leads and customers.
Let's not forget the importance of usability and effective communication. Your landing page design leaves that first impression, and worthwhile content is what keeps them on the site.Your landing page design will entice and peak interest but words tie it all together. Give them useful content that is valuable and irresistible and they will become loyal followers.
The truth is your landing page design, blog and social media presence is synergistic. It's a traffic generating model that piggybacks on each other. The term for this overall strategy is inbound marketing. The pieces all work together to generate free traffic to your website where you will build a community to nurture sales leads and support your customer base. It's difficult to say which one is more important when each one separately impacts the other. One thing is certain; a beautiful landing page design carefully and strategically inserted to content you generate on your business blog and website and then share through social media networking is a powerful source for both traffic and sales leads. It all begins with having valuable content to share and applying effective inbound marketing strategy to it!