What Is the State Of Inbound?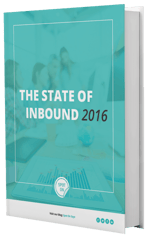 Every year, HubSpot surveys thousands of the world's foremost marketers and salespeople -- HubSpot customers and non-customers alike. Polled on their most pressing priorities, the challenges they face, and the tactics they've used to meet those challenges head-on. HubSpot tracks respondents' quantitative answers, collates and consolidates their anecdotal answers, and put the polished result into a master report: State of Inbound.
This document can serve as a roadmap for your organization's entire approach to inbound marketing and sales in 2017.