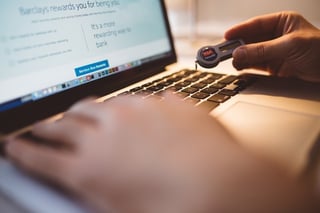 For many active internet users, the global WannaCry ransomware attack thattookplace last month was the first time they'd ever heard of ransomware. We say it's better to know and be prepared for the worst than to be blindsided by a future attack.
Where to Go to Stay In The Know
The shear size of the WannaCry attack, the status of the entities targeted, and its unsettling implications were what brought it to our attention. Now that some weeks have gone by, the sense of urgency has subsided. But ransomware and other cyber crime are becoming more sophisticated and occurring more frequently.
We don't hear about these attacks because the victims are less well-known, and the number of individuals impacted is much smaller. However small or large your operation, becoming the victim of cyber crime - whether it's hacking, identity theft, being infiltrated by a virus, or even today's latest buzz word: ransomware - could have devastating consequences and severely cripple the level of trust of the customers who rely on your services.

Here are three regularly updated resources with information on the latest trends in cyber crime that also offer tips on how to protect yourself, your brand, and your business.
TrendMicro has been providing IoT (Internet of Things) security software to global corporations for nearly 30 years and their blog has a wealth of information for the more technically inclined. Even if you're new to the lingo the insight they offer is informative and helpful. They already know how ransomware criminals are adapting to security measures put in place in response to the WannaCry attack and they also know how to spot them. Malware builds off of the success and popularity of previous malicious campaigns. TrendMicro knows not only this, but how criminals do it, and offers ransomware examples along with guidance on how to prevent ransomware and protect yourself. In our opinion that makes them more than worth their salt.
This Baltimore information hub is a blog, bulletin, and podcast all rolled into one. We like them because they're a community driven resource committed to sharing the most relevant and recent information in the world of cyber security. Their location offers them access to top analysts and experts who work or teach at some of the world's most elite cyber security organizations in the public and private sectors and in academia. They're centered on their local roots and motivated by the global implications and impact of their knowledge.
Since their start in 2012 they've grown from being a small daily news source of distilled information to being a global resource to thousands of people from over 120 countries.
As suggested by their name, Tech News World is the place to go for news on all things business and technology related. Even though security and cyber security is just one of the topics they cover, their insider approach gives readers a closer look at the impact cyber attacks have on businesses. While Tech News World does publish information about how to operate more safely and securely, their selling point is the constantly updated trove of information about potential threats and the weaknesses that they go after.
Don't be caught off guard when the next WannaCry rears its ugly head. Stay on top to avoid being targeted and to preserve the integrity of the valuable relationships you've cultivated with your customers.