It's true what they say: Teamwork makes the dream work. Every company's success is dependent on its people, whether it's your own team or an extension of your team, such as a web design company with a multifaceted group of hardworking creatives.
Teamwork is such an important part of every successful website design. Whether it's copywriting, design, or analytics, each team member utilizes their unique expertise to play an integral part in the web design process for their clients.
If you've ever been through the web design process, you know it's no easy feat. Whether it was a website built from scratch or a redesign, each venture comes with its own set of challenges.
Things are even more complicated now, as a website is not done even after it has been designed. In order for a website to be truly successful, it requires continuous upkeep after launch.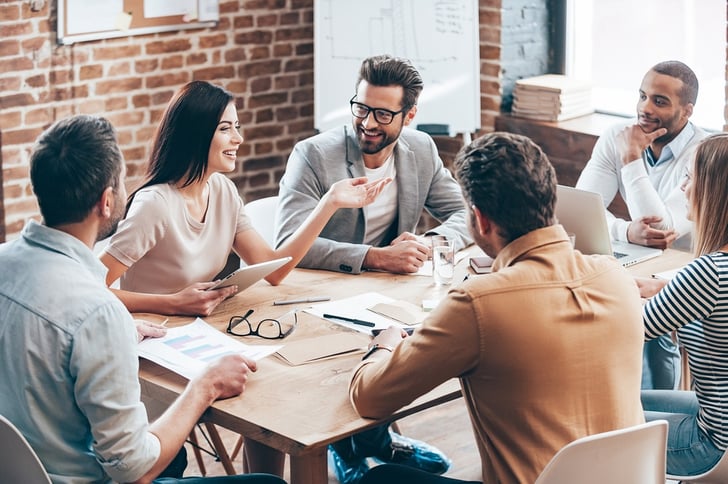 Having a knowledgeable team of experts by your side helps alleviate the pains that come with a website design, but you may be wondering how many people you'll be working with, who they are, and what they do. While the size of the team and job titles may vary, here are five key roles that your web design company should have:
1. Marketing Strategist
The marketing strategist is an individual who is equal parts creative and analytical. They help create personas, perform keyword research for SEO, and map content offers to the proper site pages. Using both insights and data, they help clients set reasonable goals for their web design projects.
The marketing strategist's main focus is customer success, so their work continues even when the new website is up and running. After the website launches, they will determine the best ways to bring ideal customers to the site. This typically involves brainstorming new content ideas, implementing a social media strategy, and executing email campaigns.
2. Content Writer
Having a great content writer is crucial for your website. A writer well-versed in digital marketing strategy will ensure the message is focused on the visitor's pain points and the correlating solutions the client offers. This person will write copy for website pages with the company's voice and ideal customers in mind.
Once the website has launched, this individual is also responsible for content creation. Content can include blog posts, emails, tip sheets, eBooks, and any other downloadable content. Since it is recommended that blog posts are published twice a week, this person stays up-to-date on all industry trends so that content can be created on a regular basis.
3. UX Designer
The designer is someone who brings the website to life, but their job goes deeper than just making it look good. Before starting the new design, this individual will analyze the client's current website to see what improvements can be made for the new site. Improvements can include a more sensical sitemap, better ways to encourage conversions, and a more aesthetically pleasing design.
Once a plan is established, a UX designer will build out designs in Photoshop so the client can get an idea of how the pages will look before they go to development.
After the site has launched, this individual will install tracking software to better understand how users are interacting with the site. If something could be improved, adjustments are made accordingly. The UX designer will continuously monitor the site to ensure it's performing at its best.
4. Web Developer
Once a strategy and design plan are in place, the website needs to be built. A web developer will build out code to match the new design. Once the code is built, they will run tests to make sure everything is operating smoothly. They work in tandem with the UX designer to ensure that the website looks and functions exactly as planned.
A web developer can also add special functionality to a site on an as-needed basis such as pop-ups and interactive elements. For example, if a client has an event coming up or a new product they're launching, the web developer can add a small JavaScript banner on their site to advertise.
5. Project Manager
The project manager is the glue that holds everyone together. This person is in charge of monitoring a project's progress and ensuring it meets client expectations. When they receive tasks from clients, they will allocate them to their team members. They regularly communicate with their team as well as with clients to make sure the project stays on time and on budget.
The web design process may seem daunting, but working with a web design company that can fill all of these roles will make it much easier. A team of experts will create a website that helps you reach your goals and gives you a great return on investment, so it's definitely worth looking into partnering with a web design company on your next website project.