Once upon a time, a newspaper display ad represented the typical successful marketing tactic. No matter what the product or service, the ad basically said, "Hey, everybody! Look at the good stuff we offer!"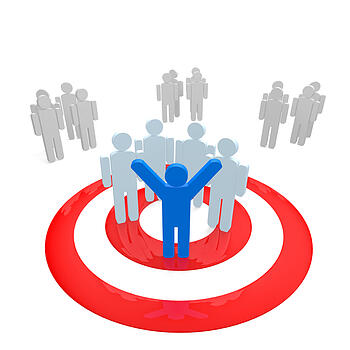 Having good stuff to offer; that never gets old. But the "Hey, everybody!" part; it's just not going to work in the digital marketplace.
Today, you can't talk to everybody. You have to talk to somebody – specifically those people carefully culled from countless Internet users based on their likelihood to respond to your message.
Build your own perfect customer
Your target market strategy, then, turns on identifying and reaching only the most qualified leads. For many small businesses, creating customer personas goes a long way toward pinpointing and enhancing their marketing tactics.
A persona is a fictional, but highly specific, profile of your ideal target. The profile goes beyond the normal demographic criteria of age range or income.
A B2B persona would naturally revolve around the professional needs, goals and even fears among your target. You don't necessarily need to know what kind of car your character drives, but you do need to learn what drives his vendor decisions. Is he more interested in growing revenue, or cutting costs? Does the current and future economic outlook intimidate her, or inspire her?
Having this kind of insight helps you tailor your content to the business mindset. You may use LinkedIn or Twitter, for example – both sites appeal more to business interests. Your blogs, videos or whitepapers can zero in on those topics most important to this audience -- like industry trends, competitive profiles or regulatory issues.
A B2C persona might take a different tack. Though you can create job categories for these characters, the bigger picture is of their approach to retail and their lifestyle habits in general. Are they impulse buyers, or procrastinators? Do they belong to clubs or associations tied to your product or service?
Approaching this character may lead you to using Facebook or Pinterest – the former being the established powerhouse of social networks; the latter being a site that appeals especially to women. Highly visual content can help with this target market strategy.
Meet Mr. Green
Take "Mike Green," a B2C persona created to help you sell golf equipment. Based on your customer research -- talking to current customer and prospects, conducting surveys and reaching out to your sales force -- you may build the perfect Mr. Green ...someone who:
is 35 years old (as opposed to "18-49")

is a sales rep in a company affected by the recession

lives in a semi-detached condo with his wife and two kids

plays 18 holes every two weeks

has a Facebook page, but rarely visits it
What does all this detail have to do with selling golf equipment? It gives you a picture of his income, tells you he's not likely to pull up stakes anytime soon, lets you reconsider using Facebook as opposed to email marketing, and so on. Your blogs to Mike might center on fitting golf into a busy schedule, using golf outings to help build business relationships, or finding the best bargain on clubs meant to last for several years.
Get personal with personas
The Internet has altered the way you find customers. Today's target market strategy turns on the benefits of identifying the people who want to hear your message -- then giving them the message the want to hear! This is the approach to use when executing an inbound marketing plan.
Still trying to get your head around what all of this means? Take a look at Inbound Marketing Explained. It should help! (If not, we're just a phone call away.)