The Best Landing Pages Boost Qualified Lead Generation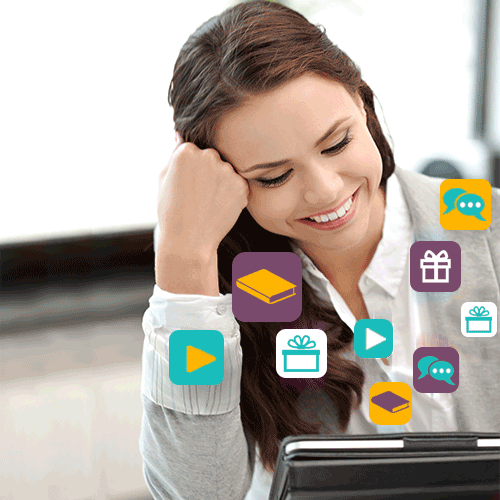 You've invested a lot into your high-quality content. Your blog, eBooks, whitepapers or videos are not "me-centric" or written around a sales pitch – instead, they're customer-focused, engaging and informative, even entertaining.
You've worked with your SEO services company to place your content where your target audience is most likely to be, whether that's on Facebook, LinkedIn or just cruising Google's (new, improved) search engine (more on that in a moment!).
Now what?
The middle portion of the inbound marketing funnel is where casual visitors are converted into qualified leads. Your content contains a call to action – and if that consists of "learn more" or "visit us," you may be missing out on a big lead-gen opportunity.
If your call to action simple takes visitors to your site's homepage, a general all around "about us" page or "our services" page the outcome usually isn't very encouraging. The hard truth is that people are simply not interested in the effort of learning more or going right to the price list – not yet. At this point in the relationship, they are thinking about how to solve a problem they're having and information about that problem is what they crave. They want something tangible – a takeaway for their trouble. They don't want to sell themselves on doing business with you; which is what you're asking them to do by sending them to "me-centric" content on your website.
A Compatible Couple
Here is where a strong pairing of a relevant call to action and landing page enter the picture. This, NOT your homepage, is where you offer the visitor something of value – an exclusive eBook or report, for instance, or a consultation – in exchange for leaving information that you will use to qualify him or her as a lead for possible follow-up.
The devil really is in the details
If time, hassle or lack of resources is the reason you're still landing-less, you're not alone. HubSpot cites Marketing Sherpa in saying, "the number one reason businesses don't use landing pages is because their marketing department doesn't know how to set them up or they are too overloaded."
Indeed, creating the best landing pages isn't a job for someone unfamiliar with the ins and outs of inbound marketing. Your webmaster, designer or developer have talent in their discipline and know the details of your business. But unless they are well schooled in how to translate that insight into customer-facing messages, you risk disengagement. If your visitors don't find, like or trust your landing page, they'll "bounce" away, leaving you with one less qualified lead. Even for companies who have a deep understanding of inbound marketing, devoting the time and energy to creating top, middle and bottom funnel calls to action, landing pages paired with relevant content offerings is a big task that will often get pushed further and further ahead on the calendar of tasks.
In 2013 the stakes are much higher
Recently, Google unleashed Hummingbird – their new search algorithm that changes the way Google identifies and indexes content. It came about in response to Facebook's (and other search tool's) latent search capabilities. Instead of Google's old reliance primarily on keywords and backlinking, Hummingbird evaluates context and the overall "conversation," studying each word in a search box and paring it with other data they have accumulated about the person (through their online habits, activities and geographic location) to craft a highly localized, personalized results page that takes many more variables into account than just the keywords.
That means quality, relevant content is more important than ever – it's got to be original, valuable and aimed at the customer. Your website cannot afford to be an "online brochure"; instead, it must hum with life as it engages and educates without the hard sell.
Getting started on this path is a big job for any company, and adding the responsibilities of designing a wonderful landing page that complements your site only adds to the pressure.
To best understand the role of the landing page, a full understanding of inbound marketing will need to come first. Shifting away from the well entrenched habits of outbound marketing is often difficult. It is especially difficult if you don't take the time to understand the simple but intricate synchronicity required for inbound marketing strategy to work.
A good landing page is merely a tactic, a cog in the wheel of the larger strategy that must be put in place first. Think of inbound marketing strategy as a kind of map or blueprint for overall marketing effort. Calls to action will point to landing pages, and the job of the page is to present a clear case for having the site visitor be willing to exchange their data for your content piece. If a site visitor is just getting started, they want to understand their problem first so providing them with a lot of information - in-depth blog articles with a call to action that takes them to a landing page that presents a downloadable e-book or logical piece to help them further understand their situation completes the loop for converting top of the funnel prospects to leads. This process is repeated until you have a robust collection of loops for middle and bottom funnel visitors too.
Is your website broken?
Given the latent search capabilities now coming to the forefront the definition of a broken website isn't quite the same as it used to be. These days it means websites that haven't bothered to construct the intricate, humming factories of well synchronized inbound marketing tactics. The most basic being sensible pairings of relevant, quality content, a sensible call to action pointing to a compelling landing page that delivers another, more valuable piece of content in exchange for the opportunity to connect.
To fix it, don't present it as a magazine that carries advertisements about how great your business is (even if they are subtle). Instead build it as a documentary channel for your area of expertise and a place for building long term relationships.