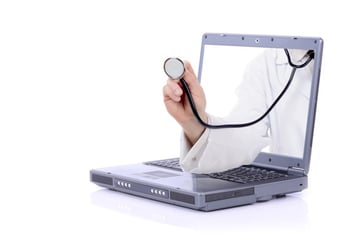 Do you have a regular business you frequent in your hometown? Perhaps it's a restaurant where the waitress knew your parents and now asks about your kids. Maybe it's a bakery or coffee shop where the person behind the counter has your favorite pastry or coffee drink on the countertop when you arrive at the register. These gestures are thoughtful and meaningful ways to say, "I see you, I know you, and I want to honor our relationship." Healthcare marketing requires that same level of attention to personal detail and, when you succeed, it will always give you the competitive edge.
Content creation is the most powerful means of providing that same level of personalization and attention to detail. Your blogs, social media postings, and even your responses to reviews on popular healthcare review sites are all methods of conversing with followers, subscribers, patients and prospective clients
Personalized & Timely Content is Key to Competitive Healthcare Marketing
Consider these recent statistics regarding the value of personalized content marketing when it comes to the healthcare industry as well as the business world-at-large:
70% of clients say they would rather learn about products via content marketing than more traditional marketing models (

Harvard Business Review

).



The majority of marketers say "original content" is the most powerful type of marketing content they produce, even more important than visuals or video (

Social Media Examiner

).



92% of businesses say social media is important to their business (Social Media Examiner), and 74% of adults actively use social media accounts (

Pew Research

).



45% of adults say online ratings/reviews are the primary factor used to select their physician (

Modern Medicine Network

).
We could keep similar statistics coming all day long, but the point is this: in a competitive market, content creation is critical to your practice's vitality and a primary means of marketing your brand to the public.
There are multiple ways your healthcare practice should use content to increase the value of your marketing campaigns. Getting to know your patient/client roster is an important first step, and you accomplish that by creating marketing personas, segmenting contact lists accordingly, and creating unique and compelling content for each of these segments.
Once you've accomplished that, gain the competitive edge using content creation - and more content creation - to attract and nurture new and existing leads.
Keep those blogs coming. Your blog is such an amazing marketing tool. If you have 5 different marketing personas, your blog can have 5 different voices - all within the same family - to attract each one. You can spin the same information 5 different ways, using well-researched keyword phrases, so the right person lands on the right blog at the right time.
Market via email. We've found small businesses often neglect email marketing because they think it's outdated, feel like people will just delete it (read Grow Your Business With Targeted Email Marketing...), or assume it doesn't really work. In fact, email marketing provides the highest ROI of any digital marketing format (venturebeat.com). It's a fantastic way to create new content, highlight top performing content, promote recent accomplishments, advertise offers or curate other helpful content.
Engage with social media. Talk about personal, social media is a way to (literally) have a conversation with individuals, groups, niches or any and everyone so you get to know them and they get to know and share you with others.
Be quick with review responses. Survey says you should respond to each and every online review quickly, and with care. This highlights your personable nature, care what people are saying and insight into the compassionate and professional way you do business.
But, how do you know which content works and which isn't really performing well? How do you decide what to write about? How do you know which content channel to use and how often? The answers to these questions will come by performing a little "behind the scenes" research that we refer to as "Content Auditing". It consists of things like uncovering content patterns or the lack thereof, evaluating which topics get the bulk of your attention and which need more, or establishing whether or not your content creation is evenly disbursed across your marketing personas. You'll also need to look into your clients' typical buyer cycle to ensure you have enough segmented content for each phase of the cycle, and then see how all of that content is performing (or not). Once you've done that, you'll find it easier to map your content and create a smarter and more client/patient-centric editorial calendar for future content creation. THAT'S how you increase both the value and the appeal of your healthcare marketing content, which will give you the competitive SERP placement you're looking for.