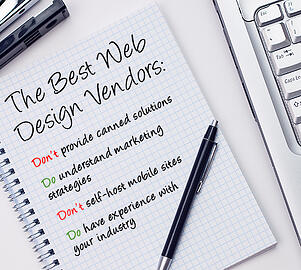 Keeping track of all the ways a website design vendor's work will impact your business can be a daunting task, but choosing a mobile website design company should never be done without extensive research and consideration. There are countless ways a company that provides seemingly perfect graphic design services can achieve a sub-optimal or even negative impact on marketing strategy—inbound marketing strategies in particular. We'll discuss a few key things to look out for when making your selection.
Canned solutions
The absolute first thing you want to find out about any design firm you're considering is whether they tailor their solutions to their clients or just used canned designs. It's the nature of canned web design that it will not fit your business perfectly—you'll get a design that's been refined to look and perform very well, but it will be a lowest common denominator solution that won't do much for your conversions.
Look at some of their clients' websites—it should become apparent very quickly if they're all operating from the same template, even if they don't look identical from an artistic perspective. There is a simple reason for this, and it isn't just laziness: many web design firms think of themselves exclusively in terms of artistic creative services and don't truly consider the business end of their work. This leads directly into...
Understanding of marketing strategies
A good web design agency will know how your marketing strategy works. If they don't, they can't possibly offer you ideal graphics. If you're using an inbound marketing strategy, you need graphics that attract qualified clients to your website and funnel them deeper and deeper into more and more relevant content. The design goals of an inbound website are very different than those of an outbound site design—ask questions, quiz the vendor, make sure they know what you're trying to do and are able to help you do it from the design perspective.
Vendor-hosted mobile sites
This is becoming popular with some mobile graphic design services—hosting client mobile sites on a subdomain of their own domain. It should be a huge red flag for a dozen reasons, but two really stand out. One, if you decide to split with the vendor for any reason, you're now dealing with a serious mess. Second, it works directly against any inbound marketing strategy you're trying to develop. Either one of these alone would be a reason to avoid a firm utilizing this method, together they make this a reason to run for the hills.
Experience with your industry
This one is more of a bonus than a must. A firm which has provided others in your industry with graphic design solutions understand the details better. They will make fewer missteps, and they will provide graphics more precisely targeted to your needs. A quality agency will still offer superior web design to a mediocre one, but this can be a good way to break a tie when looking at equally qualified agencies.