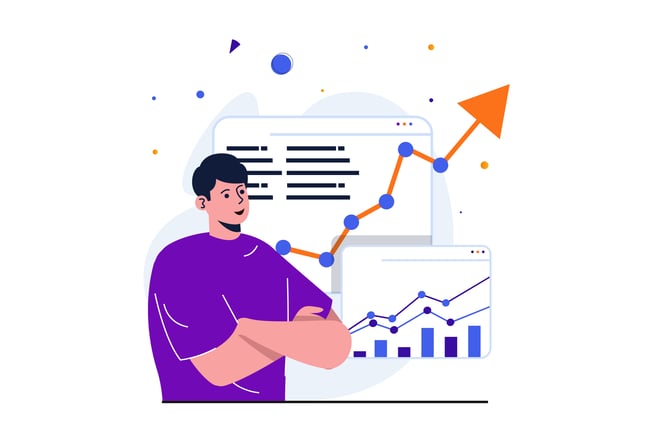 The healthcare industry has undergone rapid digital transformations in the past few years. The pandemic has accelerated the adoption of remote communications and other digital tools, with many healthcare organizations forging new relationships with technology providers as they realized they didn't have the resources to build these capabilities in-house.
Download our ultimate guide on developing and implementing your SaaS healthcare marketing strategy.
Yet many technology challenges remain. The rise of consumerism in the healthcare industry means providers must implement new technologies to improve the patient experience, deliver better treatment outcomes and streamline workflows to stay relevant and competitive.
Healthcare Software-as-a-Service (SaaS) platforms enable healthcare organizations of all sizes to digitize their operations quickly and easily meet fast-changing market demand. The global healthcare cloud computing market will reach $76.8 billion by 2026 as the healthcare enterprise software market demonstrates a compound annual growth rate (CAGR) of 13.0%.
Healthcare organizations are recognizing the benefits of cloud computing. Many are turning to SaaS, Platform-as-a-Service (PaaS) and Infrastructure-as-a-Service (IaaS) solutions to improve operational cost-efficiencies, smooth capital spending, and eliminate costly brick-and-mortar data centers that also carry increased security risks.
So how to market your SaaS business to take advantage of these trends and growth opportunities?
First, do your SaaS healthcare marketing research and understand the broader market trends and drivers. The insights will help you effectively craft your marketing message and position your product to address your ideal customers' needs. 
Let's look at the industry trends that will influence the enterprise SaaS market in 2022. We'll discuss the drivers behind these predictions and how they affect SaaS companies. We'll also explore the connection between these trends and marketing opportunities for healthcare SaaS vendors.
2022 Outlook for the Healthcare Enterprise SaaS Market
These broad trends in healthcare IT will influence the healthcare enterprise SaaS market:
Telemedicine and 5G Infrastructure
The global telehealth market will reach $224.8 billion by 2030. Besides rapid growth and adoption, the industry is also maturing. It's shifting from a focus on providing urgent care to delivering specialized care that requires the use of sophisticated monitoring devices.
5G networks and edge computing will fuel the growth of the telehealth industry, enabling reliable and timely access to digital care for more people, especially underserved patients in remote regions. New challenges will arise, and healthcare organizations must respond quickly to meet patient expectations and regulatory requirements.
Leverage this trend in your healthcare SaaS marketing: From patient communication and workflow automation to secure data exchange, the demand for cloud solutions to support telemedicine is high. SaaS companies can plug into this industry trend by showing how they support telehealth services in their marketing messages.
Patient Communication Platform
Consumerism in the healthcare industry has changed market demand and patient expectations. Legacy call center operations using old technology stacks can no longer engage patients effectively or streamline issue resolution. Not to mention, patients expect the ability to communicate with their providers through multiple channels 24/7.
For example, more healthcare organizations have moved their contact centers to the cloud. Some are using Contact Center-as-a-Service (CCaaS) to deliver efficient and effective care to attract and retain more patients while keeping costs low. These solutions allow providers to facilitate secure and compliant omnichannel–– voice, chat, text messaging, and email–– patient communications.
Leverage this trend in your healthcare SaaS marketing: Demonstrate how your solution can help providers deliver seamless and secure patient communications via multiple channels. Highlight how new technologies, such as workflow automation and AI-driven natural language processing, can help improve the patient experience without straining resources.
Care Delivery Without Walls
The shift from inpatient visits to more outpatient and digital management will transform care delivery. Cloud platforms will help integrate patient care inside and outside healthcare facilities by ensuring seamless collaboration among care teams and real-time patient data sharing through wearables and monitoring devices.
Healthcare providers will need increased capabilities to process and analyze an influx of patient data from remote monitoring devices. AI (Artificial Intelligence) and machine learning applications can help process the information and generate timely insights to optimize treatment outcomes while improving cost-efficiency.
Leverage this trend in your healthcare SaaS marketing: Cloud platforms will become the hub where healthcare providers manage and deliver care to patients inside and outside their facilities (and switch seamlessly between the two). Demonstrate how your solution can support the use of data in team collaboration and care coordination to drive efficiency, create savings and improve quality of care.
Security and Compliance
Data security and compliance with regulatory frameworks (e.g., HIPAA) will be the overarching theme as the healthcare industry moves to next-level digitization. Most new trends and improvements in the space, including those discussed here, will involve technologies and processes that could lead to data security concerns.
While the awareness of cybersecurity has increased, the cost has also skyrocketed. Most healthcare organizations recognize that they simply don't have the resources or in-house expertise to stay compliant with fast-changing regulations and provide the constant monitoring needed to fend off cybercriminals. SaaS solutions can provide a high level of security at a reasonable cost.
Leverage this trend in your healthcare SaaS marketing: Security and compliance are top of mind for any healthcare leader and CIO. No matter what SaaS solution you offer, address how your product can keep your customers' data secure. Decision-makers are getting savvier about data security, so be prepared to share in-depth content.
How to Market Your SaaS Business in the Coming Year
After you have done your SaaS healthcare marketing research, it's time to roll up your sleeves and implement the insights.
Incorporate the latest trends and developments in your content to demonstrate how you can help your audience navigate today's healthcare technology landscape. You also need an airtight marketing plan to put your message in front of the right people at the right time.
That's why more companies are partnering with experienced SaaS marketing agencies that have strong knowledge of the market to help convert more customers.
Here at Spot On, we specialize in healthcare SaaS marketing to help you achieve your business goals. Get in touch with one of our representatives to discover the many ways we can help you achieve your marketing goals in the year ahead.