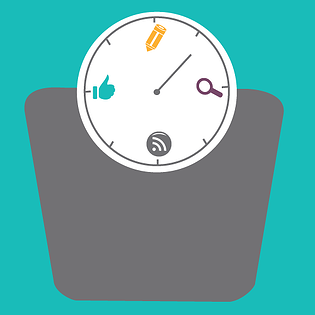 In an earlier article, 8 Ways Inbound Marketing Is Just Like a Physical Fitness Plan, we outlined getting yourself in the right frame of mind to prepare for an inbound marketing campaign. This time we're sharing the specific steps for a strong and fit inbound marketing plan:
The Best Approach
Weigh in. Take a full inventory of what you have on hand today. The most important ingredient is identifying your marketing persona - a person who represents your ideal target market. If your inbound marketing content isn't gaining visits, likes, comments or shares, start by analyzing possible issues. Often it has to do with skipping the step of identifying the target market persona. Another common problem is maintaining a social presence that's both consistent and relevant. "A Facebook page with posts that are two to three weeks old is worse than no page at all," says Silvergear; and just as damaging is the sight of a steady stream of tweets each day on Twitter that constitute nothing but sales pitches. Look for other symptoms of content malaise: a YouTube video with no views; an e-newsletter that's losing subscribers or not being read; a landing page that gets no traffic; blog posts with no calls to action; in short - broken and missing pieces.
Make a detailed FLEXIBLE plan. When you create your plan remember to consider some of the deeper aspects of inbound marketing. Here are some things to keep in mind as you start putting things down on paper. Remember to build in steps you will take to analyze and fine tune using the data you gather in the future. Content that gets no response is content that fails to reach or resonate with your target audience. So ask yourself: Have I identified who I want to reach and created the right kind of content to appeal to that person? Am I creating the best possible information and publishing it where my target audience will find it? Your action plan should include not just the goals of your content creation, but the expectations of the results – how much traffic you expect to gain, and how much of that traffic will convert to qualified leads. Don't forget to follow through, once someone finds the content what do you want them to do? Is that made clear to the visitor? Can they tell where you want them to go? Most importantly, if something isn't working it doesn't mean quit! It means you need a correction. Take the time and effort to figure out why something isn't working and then fix it.
Assemble the team. Inbound marketing doesn't happen in a vacuum. In fact, one of the great qualities of this strategy is that you can involve people from all over your organization – as subject matter experts contributing to blogs or reports, or creating how-to videos, or simply leveraging their own social networks to better distribute your content. "Word-of-mouth" advertising is still the goal here, it's how you go about getting it and have it reach people who are ready to buy that has changed. This strategy works best when the whole organization understands what your trying to do. Having people reach out to your business through your inbound marketing efforts only to be ignored or end up with a bad experience will likely happen if you don't train everyone involved to help follow through on the process.
Start the clock - but don't WATCH the clock Unlike a coupon promotion or other short-term tactic, B2B inbound marketing is meant to cultivate long-term customer interest – but that takes time. The exact time you get started should be noted but fretting because success hasn't been found in some pre-defined time frame isn't the way to look at things. Time is a benchmark, a TOOL, to help you see what's happening so you can identify where you need to focus more effort. Depending on your level of fitness when you get started - how you compare to competition in the market place, how long it will take you to build the right content, how much demand there is for your product or service and dozens of other variables - will mean some trial and error is required. How fast you can work through this process is something you CANNOT know for sure until you have a clear view of the entire picture. Citing an ebook on content marketing cost and ROI from Kapost, JWLyton noted that "it took 18 months for inbound tactics to outperform [pay-per-click] ads. Additionally, cost per lead dropped by 80% in five months." Imagine if they would have stopped just a few months in because they hadn't seen results? That incredible cost savings would have been lost!
Call in the coach!
Just as you would with a serious attempt at getting in good physical shape be prepared to call in a coach when you can't meet the goals on your own. Just like a physical fitness plan, you can absolutely do it yourself - if you have all of the skills, willingness to learn them and the discipline to follow the plan without giving up. Just like with physical fitness plans, inbound marketing plans involve people and not all people have the same resources and skill levels. Recognizing when you need a good inbound marketing coach can make the difference between success and failure. If you can't stay the course by yourself you will have to examine whether the cost of success outweighs the cost of giving up.