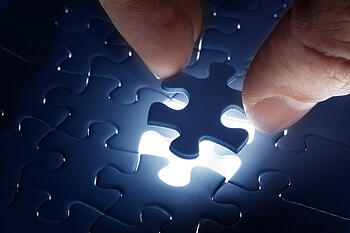 We have all been in the position of being attracted to an item in a retail store. We pick it up … examine it … admire it … ask questions about it … then put it back on the shelf as the salesperson looks on in dismay. A perfect example of a lead to close ratio that is not working for the business owner.
That last, decisive step – from interested lead to paying customer – is one that today's inbound marketing is designed to address. It is part of the inbound sales funnel that begins with being discovered online (via online content, social media and SEO-optimized website), then using landing pages and calls-to-action to encourage visitors to leave lead-gen information in exchange for even more premium content or some other perk.
Unfortunately, some businesses feel that at these early phases it is appropriate to "jump the gun" and create content, cta's and landing pages that skip straight to asking for the business. It makes for a dismal experience for people who see their online efforts and here's why it doesn't work:
At the first phase of inbound marketing, you are still getting acquainted with possible customers. Your customer-focused blogs, videos, B2B whitepapers and other content should help establish you as credible (don't make them extra pages of your brochure), but you are still largely a stranger – and few people want to give money to a stranger.

At the second phase, it's your turn to learn to get some education and insight. The lead-gen form they fill out on your landing page should help you determine whether a person is a qualified lead or just someone who "is shopping"; interested in content but not in pursuing any other relationship. If all you give someone is the option of buy now or don't your sending away many potentially valuable leads just because they aren't convinced to buy right now.
At the point when you have that valuable demographic and business information from your landing page, you are in a good position to make more personal contact. It can begin with automated emails that reinforce your company and its benefits in a way that does not pitch a sale.
Because your earlier inbound efforts have shown you what interests the leads, you can create personalized messaging to build upon that interest and trust. Ask if you may phone the lead to discuss matters. Offer him or her a special rate or free consultation. If it is a B2B project, visit the lead's social media page and "like" or "share" appropriate content. Ask what you can do now to make their job easier.
In other words, treat the lead with the consideration and deference you would a paying customer, minus the hard-sell. And do it quickly – even putting off your contact for a day can cost you interest and consideration. This doesn't have to mean calling them, the immediate action should differ based on what you know about the lead and the follow up step should be appropriate and happen fast.
Time to close the sale?
Inbound marketing is no sprint to the finish; indeed, the amount of time it takes is directly related to your normal sales cycle, where the lead happens to be in the buyer's journey when they discover you and how good a job your content does to nurture them further into the funnel. The B2B sales process is also slower and more deliberate than the B2C.
But at some point, you will have built a stronger relationship with your leads than you might have with yesterday's "outbound" marketing or some pop-up computer ad.
They know and trust you – and you know what they want. Now is the time to ask for the sale, in a way that makes clear the value you offer over competitors (because it's highly likely your leads are also examining the competition).
Will it work every time? Probably not. But one of the advantages of inbound marketing is that you can track and score leads, change your key message, and revise your approach as necessary. The first step is get a benchmark for how your online marketing effort measures up today, then take steps to tune it up accordingly and get serious about improving your lead to close ratio.