Misguided reasons for redesigning your website are driven by the thought that the freshness and "wow" factor of a new site will increase the excitement over your brand.
Before you pull the trigger on a complete website redesign, there are some things you should consider. Everyone believes that redesigning their company website is what is needed to keep clients and prospects interested. We get tired of looking at the same thing every day and assume that everyone else does as well. The key to keeping your website fresh and interesting is not through design alone - it's the fresh and interesting content that keeps people coming back! (Content such as blogs, articles, offers, eBooks, case studies, etc. are the key.)
The truth of the matter is that your prospects and clients aren't quite as critical of the look of your site as you might think. They are looking to you for solutions to their problems, so their overall opinion of your site doesn't change as much as yours does when you go through a redesign. Keep in mind, however, that you don't want to make it harder for them to navigate the site. If they are comfortable with the old site, you want to make sure you give them plenty of time to adjust to the new one.
Should you ever redesign your site? Absolutely! But for the right reasons, not just because the CEO wants a new site or because it's been 12 months since your last redesign. When you get right down to it, there are only three reasons to consider redesigning your site:
Reason #1: To get found by more prospects
You can have the most innovative, graphically pleasing site in the world but if it's not found by your prospects, then it doesn't matter how great it is. Having the right content and having it properly optimized to drive traffic is what will bring prospects to your online door. Determine the keywords that your target audience searches to find your site, then base your content around them.

Reason #2: To convert more prospects into leads and eventually, customers
Most companies only think about getting prospects to their site. What happens when they get there? Are you giving them the info that they are looking for? If a prospect visits your site, chances are they are in the market for the product or service you provide. By giving them a reason to provide you with their contact info (*Hint* giving them useful info for free!), you can turn them from a prospect into a lead.
Reason #3: To improve branding
This is only appropriate if it's based on one of the two reasons above. In other words, you can simultaneously improve your branding and give prospects what they need by launching a new site that is as informational and content-rich as it is pleasing to look at. From your company's perspective, there is no better way to improve your brand than to be viewed as the expert in your field.
The excitement that you and your staff will have from a complete renovation of your site is short-lived at best.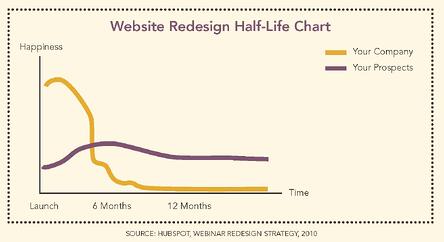 You and your company are better served in the long-run if you introduce your new look and feel with easier navigation, concise messaging, and information that is both useful and engaging to your reader.
The main motivation behind website redesign should be to improve the performance of your website. A beautiful website, although intriguing and aesthetically pleasing, is secondary to a functional traffic and lead generating website.