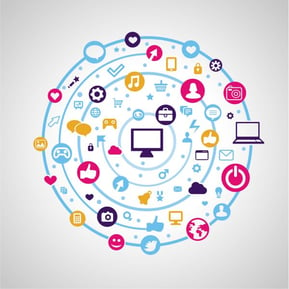 Modern day search engine optimization, commonly referred to as "SEO," is no longer the same as it used to be. SEO makes up a big component of inbound marketing in the digital age. Rather than take out expensive advertising space on billboards, TV channels, magazines and other conventional forms of media, inbound marketing focuses on improving search engine hits, emphasizing social media content, and building a solid e-mail marketing campaign and an information website/blog. Today's SEO, when part of inbound strategy, is highly focused on attracting marketing qualified leads with higher odds of converting to customers by shaping web content to marketing personas. This is creates a more personal experience for site visitors than simply aiming at a target niche, and the high level use of marketing demographics to shape the content. SEO today is being mandated to deliver the highest quality user experience zeroing in on being helpful to those who have a genuine need or desire for the company's products.
Modern Day SEO as Part of Inbound Marketing is Characterized by Dynamic Nature
Years ago, companies would stuff their website content with keywords over and over again to attract hits from search engines. They would buy banner ads or e-mail lists while hoping for new leads to pop up. Today, the traditional outbound marketing methods are out and a refined version of inbound marketing has taken the spotlight.
Contemporary SEO is all about building high-quality content that actually draws in interested customers rather than going out of the way to find them through old-fashioned mediums like radio shows and magazines. The goal is to pull in truly interested customers in a much more efficient way. When you attract inbound traffic that already has a genuine curiosity about your company, product, service, website, blog or social media content, you are reaching individuals who are likely to actually spend money on what you are selling. There is no doubt that these leads are the easiest to close. Where so many fall down on things these days is in not having what the user expects to find on the website. This is a signal to search engines about the quality of the site to related searches. It, along with hundreds of other factors, influences how likely your site is to come up in future searches.
Forging Meaningful Connections That Stand the Test of Time
The goal of contemporary inbound marketers is to turn strangers into customers. In this day and age, when it comes to the SEO efforts, it boils down to how collections of words are used for engaging people with website content. This can be indicated by the approach you use to share on social media. The more helpful you are with content that faces your marketing personas in relationship to your area of expertise, the more likely you'll have engagement that leads people into your sales funnel. Aiming for viral posts isn't the goal; a steady routine of providing helpful content that sensibly serves your marketing personas is. Take the time to identify your marketing personas in detail and align your content with their needs while being attentive to the latest Google directives for content delivery. This new style of marketing really will appeal to those who are most likely to enjoy your products and become loyal customers for the long haul.
From Stranger to Customer
Consider what it takes to convert a complete stranger into a customer even when you have the benefit of communicating face to face. Inbound marketing requires the use of multiple tools including, but not limited to, SEO efforts aligned with modern standards that focus on a stellar user experience. Modern SEO relies on informative blogging, quality website content and social publishing aimed at being resourceful and helpful to the consumer of the content instead of the business. Once site visitors are initially drawn in – engaged with the content and converted to a lead – the challenge then becomes converting them into customers.
Conversions require segueing from SEO tactics that are part of the "attract" phase of inbound marketing to obtaining personal information like e-mail address, names, phone numbers, et cetera, that create the path for direct, more personal communication. This information can be gleaned through surveys, "contact us" forms, mailing list subscriptions, a convincing landing page, a call to action and a number of other ways. Once you've got marketing qualified leads, you should have lead nurturing loops in place. These help you stay engaged with them and walk them deeper into the sales funnel.
Dynamic Instead of Static
Today's online marketing strategy requires a dynamic approach. SEO efforts must be continuously adjusted based on key performance indicators that reveal how visitors engage with your website content. Relationships should be nurtured over time to make the experience of engaging with you a pleasant one. Modern SEO is not as simple as adding loads of content to a website with a certain set of keywords. The substance of the content and how people engage with it matter more than the quantity.
Don't view your SEO efforts as static or a simple approach of checking off a laundry list of tasks. This is a strategic form of marketing that aims at quality, long term-relationships. It requires tweaks, updates and alterations for ever-growing successful results.