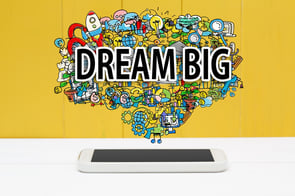 Smartphones and tablets are everywhere. Statista.com says there are currently more than 2 billion smartphones being used around the world, and that number is expected to grow by another 500 million over the next two years.
Kids have them. Businesses hand them out to employees like candy. And the little devices—along with tablets—can play a big role in helping you achieve SaaS success. In fact, smartphone SaaS is likely to become a $20 billion industry by the time the new year rolls around.
Why? Because in today's world, success is all about the app—those delightfully easy-to-use software applications that run on smartphones and tablets. There are already more than 100 million available around the world, representing more than $41 billion in annual revenue.
And it's still growing.
That means you should be thinking small to make your big SaaS dreams come true by creating mobile apps for your SaaS customers. Here's how:
Jump in
Many SaaS businesses aren't in the mobile marketplace because they don't have the in-house expertise to make it happen. But they should.
Statista.com says the mobile SaaS industry currently accounts for $16.5 billion in annual sales. Impressive. But what's more impressive is that the market is expected to more than double by 2021.
That's a trend that can't be ignored.
If you don't have the in-house talent to create a mobile SaaS app, it's time to go out, get it and then jump into the mobile app market.
Customize it
Making a mobile app for the sake of making it isn't a good strategy. It has to put your customers' needs first. This means you're going to want to customize your mobile SaaS app for your current customers. Listen to your customers—and then give them value.
Make sure you recreate the desktop experience your customers have come to expect and rely on. It has to be simple enough for customers on the go, yet robust enough to allow them to complete tasks at least as effectively and efficiently as they would be able to if they were sitting at their desktop computer.
For your app to be successful, your customers need to trust it, enjoy using it and feel like it was built just for them.
Promote it
There's little doubt that people appreciate the convenience that mobile apps provide. There's no question that creating a mobile app offers your customers a value add. And there's also no question that a mobile app offers you an opportunity to expand your software marketing opportunities.
And creating a software marketing strategy that includes your mobile app will be critical to your ability to monetize your new solution.
You'll need to raise awareness about its existence. You'll need to promote it as a solution to your customers' concerns about being able to work on the go. And you'll need to put just as much effort into making it a part of your software marketing strategy as you do for your web-based platform.
Are you ready to think small to realize big results?
If you are ready to leverage the power of small devices to realize your big dreams (or if you have already jumped into the mobile app marketplace by creating a customized app for your customers), don't put off creating a detailed plan for lead generation for it as part of your core inbound marketing strategy.
Competition in the mobile SaaS industry is only going to grow, and you're going to want to be in front of these trends by planning for them today. Make sure you're prepared to take advantage of the big opportunities that come from little devices.