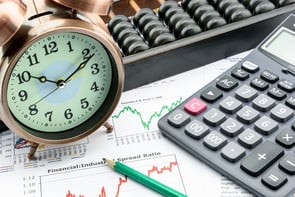 Goal setting. It's an integral part of any good inbound marketing strategy. Having a road map to follow certainly makes it easier to reach your destination. But how many times have your main marketing objectives been taken off-course by detours and U-turns? Hiccups and lag times after achieving short-term goals can extend the journey much more than you had originally planned.
That's where the value of long-term goals comes in. They make it easier to stay focused on achievements that will truly have an impact on your business.
When stop signs and forks in the road appear, time after time, you'll have the perfect GPS to guide you along your journey.
See the Forest and the Trees
When you're working with short-term goals alone, it can be easy to get caught up in the details and miss the big picture. Working with short-term goals in conjunction with your long-term goals, however, keeps you focused on your ultimate destination.
When you maintain a 360-degree view of your marketing strategy, you tap into the usefulness aspect of the value behind long-term goals. Remember, you can always break down your overarching marketing objectives into smaller, actionable steps. In fact, doing so ensures that your goals are measurable and time-bound – two important aspects of SMART marketing objectives.
Overall, with long-term goals, you'll always have a clear view of the forest and the trees.
Learn to Measure Value
For something to be valuable, it has to have some kind of worth. Of course, there's a tendency in the business world to associate worth with numbers, specifically data.
You might have smaller goals to hit a certain number of visitors a week or generate a specific quantity of leads by the next quarter. These numbers are valuable when they align with your marketing strategy. If these steps are bringing you closer to your main marketing goals, they're value-added tasks and worth your time.
Thus it's necessary to have long-term goals so you don't get caught up in chasing data that doesn't really take your business anywhere.
Work with a Point of Reference
Achieving goals of any kind feels great. When you have a road map to follow, you'll know which plans of actions should follow that accomplishment. With long-term goals there's no asking, "What's next?" Instead, you and your team have a point of reference to follow.
As you work in new processes and make adjustments along the way, you can refer to your long-term marketing strategy. Always ask yourself if these plans fit in with what your business wants to achieve a year or two years from now.
Don't forget to set up a solid foundation to support your business as it grows. With the right structure in place, making and exceeding those marketing objectives will become a reality.