When the time comes to consider a web design agency to put you on the track toward inbound marketing success, it's easy to be swayed by a vast array of digital flash, bells and whistles. But the agency best for you is not necessarily the one scattering around the most pixels. Instead, choose a design consultant based on knowledge of how qualified lead generation works – and how it can work for you.
Qualities of a good web design agency: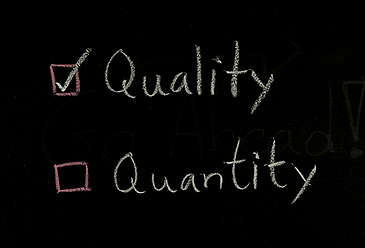 Knows the cardinal rule of inbound marketing. It's not how many visitors you get – it's the quality of those visitors. Any agency can promise you tons of hits; those that do are likely using hot (or irrelevant) SEO phrases to court "drive-bys" who will click to your site, get what they want, and leave with no intention to investigate further. If your visitors are not tied to your target audience, you'll spend valuable time weeding through the crowd looking for the good leads.
Goes the "persona" route. How do you design a site to attract the best leads? By knowing who those people are, inside and out. You should expect your web design agency to work as a consultant, helping you define your market and tailoring everything – from text to images to CTA – to that audience. A marketing persona is the key way to foster understanding of the goals, interests and concerns of your customer. Creating personas takes time and commitment, but it's well within the reach of a good web design agency.
Gets mobile. Rare is the customer who still spends all his online time at a desktop computer. Instead, people are pulling out their tablets and smartphones for data – so your site needs to accommodate mobile devices. From your customer persona insight, you should be able to determine whether your target prefers a responsive design (a consistent layout that adjusts to fit any size screen) or a specialized app that might include larger buttons or differently laid out content to accommodate specific needs.
Ties the social media to the message. A business blog is not an ad – so it shouldn't look like one or read like one. A Facebook or Twitter page that looks like nothing more than a sales pitch will seldom collect many likes or shares. Your blogs and social media presence demonstrate credibility and expertise to even the most skeptical would-be customer. Your agency's knowledge of how people respond to social networks is vital to your content creation.
Lives and dies by the CTA. If a web design agency thinks "click here" is a cutting-edge call to action, you may want to explore other options. Today's most effective CTAs tell what kind of benefit or advantage comes from "clicking here," whether it's an exclusive whitepaper, a new-customer discount or subscription to your blog. Your web design agency should demonstrate expertise creating, placing and analyzing CTAs that resonate with the target audience. A/B testing will help you discover the offer, wording and placement that pull the best responses.