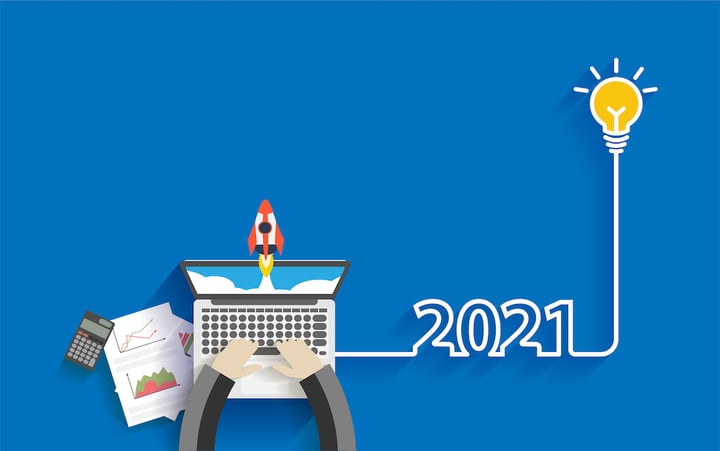 It's 2021 and if you are not implementing healthcare software marketing, you can be sure that your competition is doing so. Nowhere is this more critical than in the healthcare SaaS sphere. With the shift towards virtual healthcare and telemedicine over the course of this year, healthcare organizations need digital-first marketing strategies that meet patient expectations. For healthcare software companies wanting to connect with medical providers, plans for 2021 and beyond must include a strong digital marketing strategy to help gain and maintain traction in a transformed healthcare landscape.
Here are our top 5 tips for healthcare software digital marketing:
1. Start by building connections.
In 2021 and beyond, authenticity and trust will be more critical than ever. According to Deloitte's report on 2021's global marketing trends, marketing next year will be all about "authentic human connection." It seems that the more we move into virtual environments, the more we crave a human experience from our online interactions.
So, what does this mean for healthcare software marketing? For starters, it means acknowledging that even B2B software buyers want to buy from people, not brands. We make buying decisions based on reason and logic, of course, but also because we trust the people we're buying from.
Social media can be a powerful way to create a human connection with potential buyers. For 2021, think about how to make your voice stand out from the noise by humanizing your brand on social media and in content marketing.
Marketing expert Neil Patel suggests that even B2B brands use the first-person voice in updates and posts, or use a "brand front person" to tweet, post, or write articles. Videos can also help make a connection between your healthcare SaaS offering or services and your potential clients – for instance, creating explainer videos, video case studies showing you talking with existing clients, or engaging 'About Us" videos.
Personalization can also be invaluable in marketing to larger healthcare organizations. For instance, consider targeting your prospects with one-to-one, customized marketing content, and relevant use-cases. It may take more time, but the return on investment can be far higher than one-size-fits-all campaigns.
2. Prove your purpose.
Larry Fink, CEO of Blackrock, wrote in his 2020 letter to CEOs, "Purpose is the engine of long-term profitability." And indeed, an Accenture study of consumer behavior found that more than 60% of customers want to buy from companies that demonstrate strong values and align with their own beliefs.
How can healthcare software marketers plan for this shift in the future? For starters, when you're thinking about your digital marketing strategy for next year, start by considering how you can communicate your purpose to your target market and existing customers. Review your company's mission and vision – you may even want to update these to reflect today's changed reality.
In healthcare software, you may also play a key role in helping your customers achieve their organizational purpose – whether that's a better experience for medical professionals or improved patient care. Demonstrating how your company's purpose overlaps with the potential clients' mission can help build a powerful connection between your business and theirs. One word of caution: purpose-led marketing only works if it is authentic. Anything else smacks of "greenwashing" and can quickly backfire.
3. Stay agile.
If the past has taught us, digital marketers, anything, it's that we need to be able to respond to change – fast. Deloitte's report found that most consumers could name a brand that quickly pivoted its offering to meet their needs during 2020, and "82% reported that these new, more relevant offerings increased their desire to do more business with these brands."
Becoming more agile requires gaining a thorough understanding of your market, their current and upcoming priorities, and responding with relevant, targeted content via digital channels. One of our top tips for healthcare software marketing is to invest in strategies and processes that will help you adjust quickly to market changes and shifts in healthcare buyer behaviors.
Agile marketing requires a cohesive view of your target market and existing customers. This process might involve pulling together lead and customer data into a single source of information, such as a unified customer data platform (CDP). Or you could consider investing in marketing technology with a social media analytics functionality, enabling you to understand what your target market is most interested in hearing about at any given moment. It even might be as simple as swapping out your usual meet-and-greet events for virtual conferences and workshops that better meet your customer needs.
4. Influencer marketing is a growing B2B trend.
B2B influencer marketing is another key digital marketing trend for 2021. While influencer marketing is standard practice for B2C marketers, it can be highly effective for B2B marketing also, especially in risk-averse markets like healthcare.
Decision-makers trust their peers more than anyone. To identify potential influencers that might be relevant to your specific niche, you can try "social listening" to track conversations around specific topics and keywords. Then identify people who are already writing about the services or products that you offer. You don't need to find people with a large following – so-called "micro-influencers" with recognized expertise in healthcare software will likely be a better fit.
In addition to reaching out to micro-influencers, you can also build authority by writing guest posts for well-known trade publications. Case studies are an invaluable tool for demonstrating product value to potential clients; if you've invested in your client relationships, you may even find that some clients are prepared to provide personal references or hop on a call with your prospects. If you sell via resellers, then some channel co-marketing can be helpful here too. If buyers trust their particular reseller, they may well be persuaded by joint marketing efforts – or even just a casual recommendation of your products or services from a trusted IT supplier.
5. Some things don't change.
There's no doubt that the landscape of healthcare is looking radically different than it did even a few short months ago. But before you throw out the playbook altogether, it's worth noting that some things haven't changed much. In the future, healthcare software companies will still deal with a diffuse decision-making process, a slow sales cycle, formal buying processes, and extreme caution around data security. While you do need to consider the latest digital marketing trends, you should also be aware that trends are fleeting – real healthcare software marketing results come from a solid, long-term marketing strategy.
For example, despite all the changes 2020 brought, digital marketers agree that "Content is still king." For healthcare software marketers, content can help engage with multiple decision makers and retain interest over the lengthy buying process. However, not all content is created equal, and 2021 may be the moment to carefully consider how you choose the content you're producing. The Content Marketing Institute found that as many as 42% of companies created content on a project basis. In other words, companies churn out content to support a new product feature or for the sales team to use in a particular pitch. By contrast, customer-centered content focuses on what your customers want to read when they want to read it. In the future, when healthcare software buyers may be feeling even more cautious than usual about healthcare SaaS purchase decisions, positioning yourselves as the source of relevant, up-to-date, and authoritative content may help keep leads engaged across a longer sales cycle.
The right content will not only help strengthen your online brand but also help you rank more quickly in organic search. Google's new BERT models, powered by machine learning and AI algorithms, are far better at understanding user search intent and natural language. As a result, Google now prioritizes high-quality content more than ever before. To help your company rank in organic search, creating consistent, helpful content is by far the most effective method, both now and heading into the new year.
Spot On specializes in helping healthcare software companies build a stronger online presence to drive sales. Learn how working with a healthcare digital marketing agency can support a provider like you, or if you'd like our help meeting your 2021 digital marketing goals, schedule a time to chat with us.