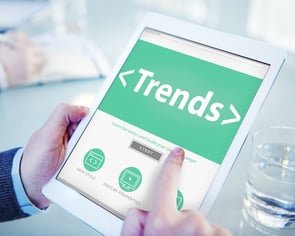 SaaS marketing is no easy task. You're basically marketing something that has no physical presence and that is constantly changing – not to mention that the average individual isn't familiar with the ins and outs of cloud computing in the first place.
Because cloud computing is constantly changing, so are the ways that you can effectively market it, which is why you should keep an eye out on SaaS marketing trends to help ensure the success of your business. The following are five of the current trends that you should consider adopting.
1. Content marketing is becoming more essential.
Most SaaS companies still depend on SEO and paid advertising in order to be found. However, these marketing strategies don't do anything to set you apart from a field that is not only crowded with startups, but with already established SaaS companies as well. While you might attract a lot of traffic, getting qualified leads will prove to be more difficult. In order to stand out from the pack, you need to establish a content marketing strategy that helps inform your consumer base about SaaS platforms and cloud computing in general. Content marketing will also help strengthen your company's brand identity and build loyalty and trust.
2. Personal consumer research is becoming more important.
A lot of SaaS companies are performing consumer research via surveys and analysis of raw data. But as companies begin investing more in the personalization and customization of their SaaS services, they will also begin investing more in personal consumer research through direct engagement via social media and email marketing, thereby building a more effective buyer persona that details customer desires, purchasing motivations, and lifestyles.
3. Free demos are being replaced by free software.
Almost every SaaS company provides a free demo or trial on their site, which allow customers to use their software for a short period of time before having to purchase it. Unless you have customer service allocated to assist customers that register through the entire process in order to understand the benefits of your SaaS platform, though, you are going to have a huge drop out rate. Basically, unless you have the resources to back your free demos or trials, they're not going to be an effective strategy for converting sales. Companies that are realizing this have begun simply offering free software that customers can sign up for and then use for as long as they want. They then offer a premium version of the software that comes with more features that customers can upgrade to for a fee.
4. SaaS companies are focusing on becoming thought leaders.
Having a thought leader within your company will go a long way in helping to establish your company's brand and make it stand out. High-profile thought leaders are often the company figure heads. Many SaaS CEOs are beginning to become more involved with the public by participating in social media forums, releasing articles on blogs and hosting open discussions on their websites. By establishing a thought leader within your company, you'll have someone that consumers can connect to on a personal level and that can present ideas that help build trust and encourage engagement.
5. More SaaS apps are focusing on specific industries.
Companies that develop their SaaS apps for specific industries will immediately have a built-in user base, which provides them with a headstart for developing additional features. Apps designed for specific industries are more relevant to the needs of consumers as well, since more generalized apps won't be able to provide the specific solutions that consumers require or desire.
Consider implementing these five SaaS marketing trends into your marketing strategy to help you distance yourself from the competition in 2016.