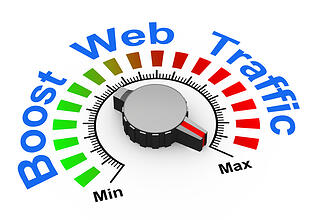 Updated 2015: Part of any well thought out marketing strategy includes a website. A site on its own, however, is not enough. You must also understand how to increase web traffic to your site so that your message is seen by your target audience.

There is certainly no shortage of recommendations about how to increase web traffic, but not all of them are effective and many are outdated. Some are even ill advised and could result in more harm than good. For example, having backlinks to your site across the web increases traffic, but if you try to manipulate by creating them yourself these days it could get your website banned from search results. Google has changed very much over the years and going into 2015 they know exactly who is getting the legitimate, backlinks because someone liked the content enough to share it versus the old tactic where businesses drive the generation of those backlinks in some way (including press releases and social media sharing). Choose people who will help you very wisely. Someone who hasn't kept up to speed and doesn't realize how much things have changed can destroy your online visibility and all the while charging you a monthly fee for the privelage and pointing you to achievements that have no real business value.
If you want a real understanding of how to increase web traffic, it's important to develop a basic understanding of how search engines work. While there are ways to obtain visitors from other outlets, the vast majority of the people who discover your site will do so via search. Search engine algorithms are complex and heavily guarded. In simplest terms, however, search engines evaluate and rank your web pages based on how relevant they appear to a person's search terms. Post 2015 the results take into account hundreds of variables including the device, location and demographic information of the person conducting the search. Page one of search results can be different for two different people on the same search term because of this sophisticated ability to sift results.
Create Engaging Content
Content is at the center of the online world. In an effort to learn how to increase web traffic, many people make the mistake of forsaking this fact in favor of other, seemingly simpler methods. If you want to really drive traffic to your site, you should create and post quality content that helps site visitors in some way that is relevant to the services you provide. This content should be highly relevant to your site and targeted audience, and should engage in a sensible use of relevant keywords that help the user and search engine zero in on the context of your article and website. With this in mind, developing an effective strategy to increase web traffic hinges on both creating a site that is search engine friendly and providing helpful information for the visitors who ultimately arrive there.
Share Your Site and Content
Your content may be gripping and your site design may be stimulating, but it won't do you any good if you can't get people to see it. Marketing, at its core, is spreading the word about a product or service to the masses. If you don't share it with others, how can you expect to accomplish this goal? Use social media outlets, forums, and even question and answer sites to helpfully share your content. A word of caution here though, the practice of just sprinkling links to your website everywhere you can find will bring punishment. When you share content it absolutely must be helpful and not conniving toward self-serving motives of getting click-throughs. Don't take the advice of anyone telling you to build backlinks to your website (or offering to do it for you) using this method. It is now considered spam and the search engines have devised mathematical formulas to find you out and penalize you by not showing your site in any results.
Be Sociable
Hundreds of opportunities exist on the web for you to interact with your target audience. Join forums that consist of people in your target market and participate in the discussions there, the same way you would if you were speaking to a neighbor or family member asking for help, otherwise it is nothing but a nuisance and you will pay a price for the self-serving approach. The overarching objective is to be friendly, helpful and demonstrate your value in any setting on the web. Your content should simply be aimed at solving problems, sharing your knowledge and showing your thought leadership in your area of expertise.
Take Advantage of Your Email Signature
How many emails do you send out every day? These messages are a prime opportunity to spread awareness about your site without trying to sell directly to a person. You can develop a clever tag line or simply use your title, but link it to your website. Add social media icons for Twitter, LinkedIn and Facebook so people can easily find you. You'd be surprised at how much traffic you can get simply from your contacts wanting to know more about you.