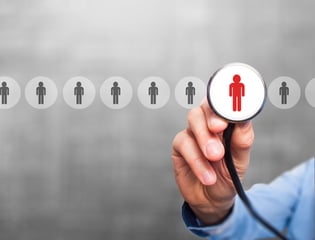 Most healthcare marketing blogs focus on the relationship between CRM systems and profit. There's nothing wrong with this. Even the most heartfelt and patient-centric healthcare providers require a profit in order to do their jobs.
While patient health is a top priority, healthy patient relationships should certainly be a close second because, in full-disclosure, we believe healthy relationships between patients and providers will, ultimately, yield higher profits.
Optimize Your CRM to Facilitate Healthy Patient-Provider Relationships
A well-oiled and high-functioning CRM system will facilitate better relationships between patients and staff, and this drives profits in multiple ways.
Encourage direct communication between patients and providers
Before the digital and social media era, physicians were shrouded in a haze of mystique. Excluding their scheduled appointments, patients wouldn't think of communicating with their doctor directly - nor was it even possible in most cases. Patient portals have changed all that, making patient engagement a regular thing between doctors, nurses, NPs and NA, the pharmacy and so on.
For doctors and staff, optimized patient portals are a time and life saver. Just a few minutes spent checking in to communicate with a patient or answer a few questions can provide reassurance the patient needs, saving the doctor an unnecessary appointment and a wasted 30-minutes or more. For patients, the portal provides peace of mind, knowing their own doctor or friendly office staff will get back to them quickly and directly, making them feel valued and taken care of.
The more you use CRM to promote the patient portal and inspire patient engagement, the more satisfied patients will be.
Satisfied patients pay bills on time
A 2014 study by Connance found satisfied patients were significantly more likely to pay their bills one time. As in, 74% of satisfied patients paid bills in full, when due. Compare this with the 33% of their lesser-satisfied counterparts who hold out, using "dissatisfaction" as a reason for not paying.
While using billing collections agencies is a must in certain scenarios, it doesn't foster the types of positive relationships you want with your patients.
Wouldn't it be better if patients were satisfied to the point that they either paid their bills in full or signed up for reasonable payment plans that kept your revenue coming in? And, wouldn't it be nice if they were so satisfied they were compelled to leave positive online reviews or refer you to their friends, so your patient rosters continued to flourish?
Enter your healthcare marketing team and the CRM system
Once you've learned how to optimize the CRM system, you'll be able to do all kinds of things to facilitate and foster the types of relationships it takes to build a successful and profitable healthcare brand.
You can use targeted eNewsletters, emails, blogs and social media posts to cultivate personalized and customized patient engagement.
Promote the heck out of your patient portal - and all its attributes - so patients become comfortable with contacting doctors directly, taking advantage of nurse hotlines and chats, or checking in with the pharmacy regarding prescriptions or potential medication reactions.
Set up bill pay reminders on your website or via patient portals so patients unable to pay their bill in full feel more comfortable taking advantage of various bill pay options. Read, 9 Healthcare Marketing Tips That Aid Billing, for more detailed information on how to inspire patients to pay on time.
The more you engage with patients, the more loyal they become. That's a win-win for everyone since 95% of satisfied patients are likely to return to your hospital for future procedures and 82% will recommend the hospital to others (beckerhospitalreview).
With a simple infusion of modern healthcare marketing, you gain a variety of ways to promote healthy relationships between patients and providers that drives patient rosters and profits in a positive direction.