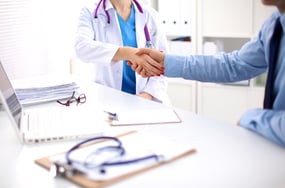 What do healthcare marketing and reduced hospital readmissions have in common? Communication.
Informative & Engaging Communication Reduces Hospital Admissions
In an article for healthaffairs.org, authors Debra Ness and William Kramer write: "Avoidable readmissions are a strong indicator of a fragmented health care system that too often leaves discharged patients confused about how to care for themselves at home, and unable to follow instructions and get the necessary follow-up care."
Thoughtful communication is simple to implement and can help provide informative support for patients and their families after the patient is discharged. With the right communication, patients won't be so confused; they can review discharge information, re-read post-op care instructions, receive important reminders and schedule follow-up appointments.
Healthcare marketing offers several ways to make high-quality patient communication a reality:
Market Your Patient Portals
Patient portals are a tremendous asset. With one log-in, patients have access to a plethora of information—as long as they know what to do and where to go. The information available there answers important questions that would lead to hospital readmissions if the patient were confused about what to do or when to do it.
The leading causes of hospital readmissions include septicemia, mood disorders, and complications from existing conditions like congestive heart failure, diabetes, and respiratory disorders. The more information patients have about warning signs, treatments, meds that can be ordered online and available nurse hotlines, the less likely they are to be readmitted.
All of those—and more—are available via patient portals, so your job, as a healthcare marketer, is to market the heck out of those portals, segmenting information accordingly.
Segment, Segment, Segment
That segues perfectly to the next tip: segment your patient personas so the right people are getting the right information. What does your diabetes patient care about pneumonia? What does your heart patient care about septicemia? While general eNewsletters and patient portal info are okay some of the time, your marketing materials should be highly segmented so that the bulk of the subject matter is 100% relevant to them.
If a patient was just discharged after an open heart surgery, they and their primary caregivers (often spouses or family members) should receive segmented information specific to their required post-op care—including warning signs of infection or complications that will ensure they get care sooner rather than later reducing the length of a readmission stay.
Your hospital's data and analytics can help you establish which patients with chronic conditions should receive reminders about screenings, follow-up care, treatment options that are showing the greatest rates of success for their condition, and so on.
This level of outreach will not only reduce hospital readmissions; it will also increase patient satisfaction.
Use Humans Whenever Possible
Go ahead and use human power whenever possible. The cost of having a qualified employee personally call recently discharged patients to check in and answer questions is far less than the cost of a readmission that lasts a week or longer. Go ahead and use human power to do things like make check-in calls once a week or for a set number of times that makes sense for the condition and post-op care requirements.
You can also have the nurse or CNA record the complete discharge instructions on a patient's smartphone or iPad so they can replay it as many times as they need to as a reminder.
The human voice is more powerful than any text, social media blast or blog post—so capitalize on that and use people power wisely.
Smart healthcare marketing reduces hospital readmissions, leading to healthier patients and healthier bottom lines.