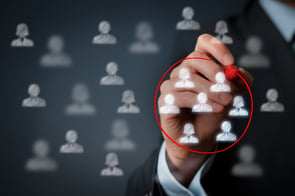 What ever happened to the handshake?
At one time in the not-so-distant past, it was the quintessential act of introducing yourself to prospects. In one gesture, you could make a favorable first impression, establish trust, and position yourself as someone who can be relied on to deliver results. In other words, the handshake was the way to lay the foundation of a relationship that could last for years.
And if you combined a high-quality handshake with eye contact? Watch out.
Sadly, the handshake has gone the way of the landline phone, at least when it comes to identifying prospects and building relationships.
Sure, handshakes and landlines still work, but good luck finding a critical mass of other people who are still using them to build their businesses.
These days the handshake has been replaced by profile views, introductions and connections on LinkedIn. Nowadays, you need a firm grasp on how to incorporate LinkedIn into your inbound marketing strategy in order to identify high-value prospects, build relationships and set sales records.
Here's how:
Create a BOLO
When police are looking for a suspect, they issue a BOLO alert. BOLO stands for "be on the lookout," and the alert includes a detailed description of the suspect. You need a BOLO for your LinkedIn prospects.
You need to know (with precision) your buyer persona.
What companies are most likely to need your products or services? Who makes the buying decisions at those companies? What titles do they have? Who are they most likely to listen to online? To which groups are they most likely to subscribe?
Once you know who you're looking for, you need to be on the lookout for them.
Start the search
Officers who are actively working a BOLO don't typically park out in front of the doughnut shop and hope that they'll find the suspect. They start searching.
They go looking for their person of interest. Once you know who you're looking for, start your search.
LinkedIn makes this easy for you by offering advanced search options that allow you to use keywords, titles, postal codes and even age and gender to track down the people who are most likely to be interested in your products or services.
Introduce yourself
If the handshake has been replaced by anything, it is the online introduction.
While online introductions are often overlooked, they need to be incorporated into every inbound marketing strategy.
Introductions are critically important to your ability to connect with prospects. The key is to keep it short, sweet and simple. Tell people why you want to connect, who you are and what you have in common with them.
You'll only have 300 words to work with, so make every character count. Hit the sweet spot by being honest and earnest. Don't sell, but instead respectfully and confidently ask for a connection. Once you have perfected your online introduction, make sure to formally incorporate it into your inbound marketing strategy.
Stick with it
It might be more difficult to make a positive first impression today than it was when the handshake ruled the networking world.
And why wouldn't it be? After all, LinkedIn is pretty impersonal. There's no handshake, no eye contact, and it's a lot easier for a prospect to delete your email than it would be to simply walk away from your face.
What you need to do is incorporate LinkedIn into your inbound marketing strategy and then stick with it.