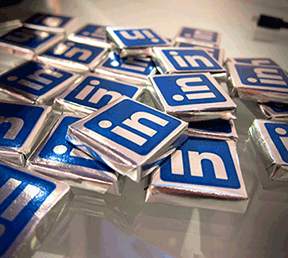 Have you noticed? LinkedIn has made a few changes to the design of their company pages. It's important for your page to be set up to optimize its effect on visitors and help you get more customers.
LinkedIn's changes require that your content be visually focused and current. Read on to study up on the setup and learn how to take advantage of the new design to meeting some of your keyword ranking goals.
Your company page is made up of four tabs: Home, Careers, Products and Insights.
HOME – "Hello world, we are . . . "(insert your company name here). This is your stage, your place on LinkedIn to present yourself.

CAREERS – This tab will allow you to interact with the job pool on LinkedIn. NOTE: A paid subscription is required to use this tab.

PRODUCTS – Showcase your products and services here. Your recommendations and testimonials will be visible. Customer advocates are golden in this arena.

INSIGHTS – Not to be mistaken for metrics, visitors to this tab can get a glimpse of who's who and who's not within your business; new hires, title changes, departures, where your employees came from.
For now, let's focus on the overview which is located on the Home page. It is, after all, where you make your first and, hopefully, not only impression. Take note of how it is set up to best showcase what makes your company unique. It's important to remember this might be a prospects first introduction to your company. You can also use this opportunity to help with keyword ranking efforts.
Though at first it might seem a little distracting to go to a LinkedIn page and encounter cover art, wall posts, and how you are connected before seeing anything else, you should use this to your advantage! Upload eye-catching, informational cover art. Let visitors know right off the bat, what you do and why you are different. Enhance the cover are with the keywords that fit your overall keyword ranking strategy. There should be no mistake as to what you do and why someone would be missing out if they did not do business with you. Remember that if someone is looking to find out more about your business, they will either need to scroll to the bottom of your company page or get a good taste of who you are and what you do from your cover art and postings. Keeping your keyword strategy in mind, even when you create content that is image based just helps tie everything together and create opportunities for you to use your keyword ranking strategies in other places on the page.
Once you've gotten your message across in your cover image, you need to back up that you are an industry leader through the content in your posts. Focus on interesting, regular (and most of all) relevant posts. Remember the suggestion of places to use your keyword ranking strategy? Well, here it is - use your keywords within this content. Show that you know what is going on in the industry. You have the pulse of what is new and cutting edge. You are a thought leader. You can propose questions and provide clarity and guidance by relying on your background and expertise. All the while reaching a targeted audience with the added boost you gain by incorporating keyword ranking strategy.
Are you looking to reach all followers? Would you like to target only companies of a certain size? You can do that when you post. Find out what works best for you, a small targeted audience or a blanket post for all your followers. And be sure to make it pop by uploading images. Remember, visual content attracts attention.
Last but not least is your summary. As mentioned before, the location has changed. It will still be there but people will have to scroll past your cover image and your posts first. They will already feel like they know you after seeing your images and reading your posts. Make sure your summary is descriptive enough to give them the info that they are looking for about your services. But, remember, keep it precise and succinct. Ultimately, you want them to vist your website to find out more OR even better connect with you via phone or email.
photo credit: nan palmero via photopin cc