In a perfect world, none of us would have to cold call, attend networking events, work a booth at trade show - none of that - our ideal customers would simply email or call us when they are ready to buy, right? Is this utopia even possible? Yes! Well, at least to some extent. (Sorry - you'll probably still have to attend networking events.)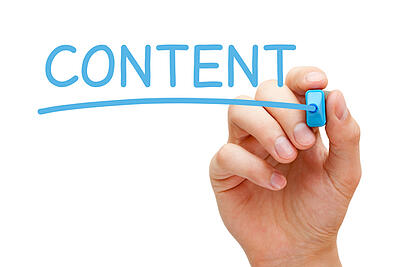 Think of how much more effective your marketing would be if you were marketing to people who were looking for you or your service in the first place. The key to this is getting your site found by someone at the moment they looking for what you offer.
How?
1. Create brilliant content.
2. Put it on your website.
Yes - it's that simple! The most important FIRST step you can take to having your website start generating leads is creating fresh content.
Why?
Because it's easier to find your site if the search engines know that information lives there that is relevant to what your target market is searching for.
A few examples of great content:
Blogs
Blogging is, of course, the best way to generate relevant content that interesting to your target audience. Be sure, though, that you are truly speaking to your audience. Your blog posts should be no less than 600 words if you really want to engage the reader. Also, make certain that you use keywords in your posts. This helps you rank in organic search. Make sure you blog regularly though - two or three times a week is best.

White paper or eBook
You may see this and think it's the most difficult piece of content to write. Once you're blogging regularly though, it can be quite simple. Compile several blog posts that cover a similar topic and create a downloadable eBook. You can also use a white paper to deliver results from previous research.

Checklists
Everybody loves checklists! Create a checklist of steps that people should take to solve a problem that your product or service solves. For example, an accounting firm could have a tax return preparation checklist, a moving company could have a packing checklist (or a checklist of things to get ready for a move). Make sense?

Case studies
What better way to demonstrate your ability to solve a prospect's problem than by showing them the success you've had before! Spotlighting your best customers also gives them a chance to show off a bit. There are a lot of options here - including using video. (Search engines LOVE video!)

Product demo video
A demo video is perfect for showing off your product's features and benefits. You can also give the prospect a product tip sheet to download after they finish watching the video.

Industry trends
Ask David Letterman how much people enjoy a Top 10 list! Create a Top 10 list for trends in your industry. Write a brief paragraph about each change that occurred during the year and what you think will happen in the coming year. What better way to show that you are an expert in your field.
These are really just a few ideas for generating great content. The key is to post information to your site that your prospects will want to download. This keeps them coming back to your site and will make it the first place they look when they are ready to purchase.
As previously mentioned, blogging should be done two or three times a week but for the rest, you're pretty safe if you only develop a new piece once or twice a quarter. Be sure to create landing pages for each of these pieces of content so you can capture your leads. The landing pages should also be set up to help you track what content is the most popular with your audience.