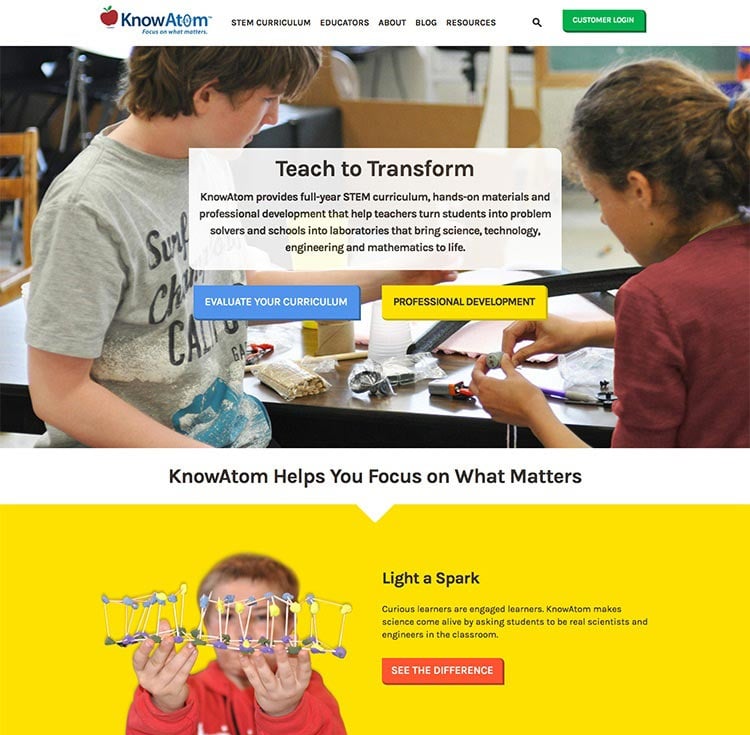 Our client KnowAtom creates STEM curriculum that aims to engage students as real scientists and engineers in the classroom. The extensive materials they provide allow teachers to spend more time teaching students valuable problem-solving skills, and less time planning. KnowAtom has a proven track record of helping schools all over the U.S. increase test scores and proficiency, so it's easy to see why they boast a notable 97% customer retention rate.
The Challenge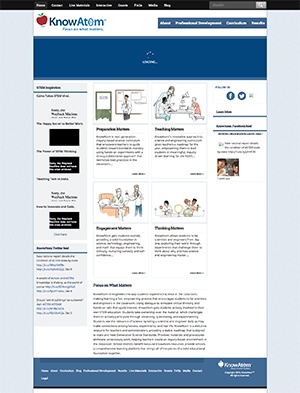 While customer satisfaction hasn't been an issue, attracting new customers proved to be a bit more challenging. KnowAtom's sales method was primarily field based, acquiring leads from word of mouth and face-to-face peer networks. The effectiveness of this method began to decrease as older teachers were retiring. Recognizing that their customers were now spending more time online, KnowAtom signed up with HubSpot and partnered with The Spot On Agency to implement an inbound marketing plan and re-establish their digital presence, starting with their website.
No different than most traditional websites, KnowAtom's existing site was brochure-like and generic in design, copy-heavy (in this case with a technical tone), and embedded with "learn more" buttons and generic contact forms throughout. Imagery was limited, and consisted solely of illustrations. A major concern was that critical information, such as lesson plans, was hard to find without going through a number of other pages first. This combination left visitors with no clear path to a solution, and limited KnowAtom's ability to acquire new contacts.
The Design
Spot On began the redesign process with a newly organized site map, combining and reorganizing the information site-wide for better flow. Next, we cut the text down to digestible, bite-sized pieces, and rewrote it in a more user-friendly voice. The design was updated to a custom and modern, full-width layout, using bright colors to reflect the intended positive impact on the products' grade school users. Large photos showing students hands-on with KnowAtom materials play a key role in allowing teachers to see the curriculum in action.
KnowAtom's new site is in alignment with inbound best practices, featuring detailed CTA(s) on every page, instead of the standard "learn more" label. This gives a straightforward route of where visitors can go to find valuable resources. Forms now live only on landing pages so KnowAtom can obtain qualified leads.
The Difference
A comparison of the site's overall performance before and after the redesign shows dramatic increases in both the amount of time visitors spend on the site and pageviews. Average time on page increased by 55%, and pageviews increased by a whopping 229%, both indicating an improved user experience.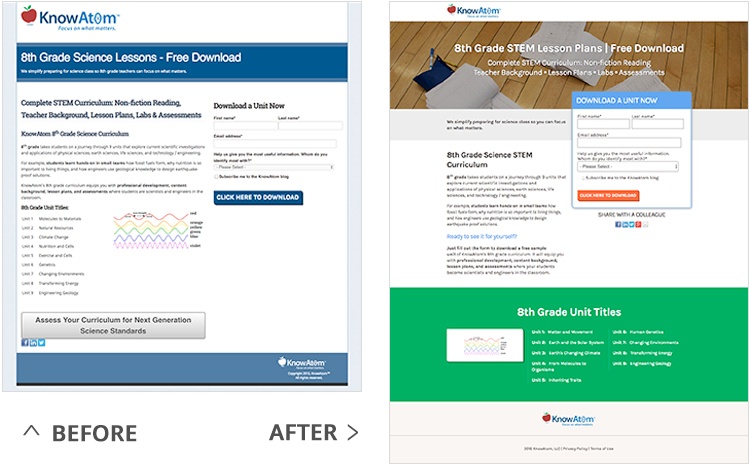 Prior to the redesign, landing pages had decent traffic but extremely low conversions – most around 6-7%. (Far below the HubSpot benchmark of 20% conversion rate of visits to leads.) The same landing pages once redesigned and optimized boast an average of 35% conversion rate.
The HubSpot Landing Page Analysis tool allows us to compare a before and after page side by side:

KnowAtom's website design now helps visitors to easily find the solutions they need, and assists in securing potential new business. We couldn't be more pleased with the results, and thankful that we were able to participate in their mission of helping students succeed.