This post is a submission for Website Design in the HubSpot Impact Awards.
Introducing Alden Systems
In 2013, we began working with one of our first inbound marketing clients, Alden Systems, Inc. Alden offers five different asset management softwares, and an array of consulting, business analysis, inventory, and inspection services to the utilities and telecommunications industries. Alden determines the best combination of software and services for each prospect based on their industry, division and specific pain points.
Needless to say, Alden is a complex and multi-faceted organization.
Outlining Objectives:
In 2015, Alden approached us for a website redesign with three major goals:
Allow each persona to easily discover the solutions that best address their pain points
Modernize the look of the site with a fully responsive, clean and dynamic design utilizing inbound best practices
Cover every stage of the sales funnel
Paving Paths:
Early in the process we mapped out the website structure, and organized a clear path for each persona to get from pain point to solution. We planned two routes for a visitor to begin their journey — either by selecting their persona or identifying their problem. If they begin by choosing their persona, the persona page asks them to identify a problem. If they start by identifying a problem, a pop up will emerge to verify the industry.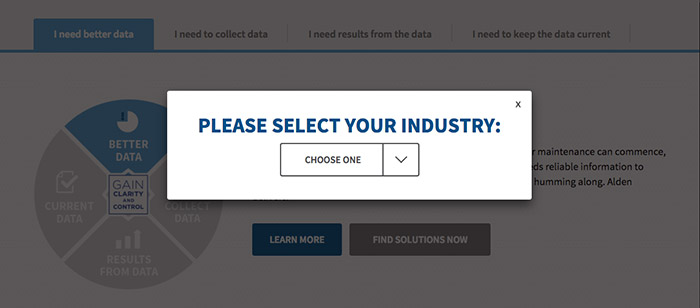 From there we outlined the problems of each particular persona in depth on the problems pages. Find Solutions Now CTA's lead to a combination of recommended solutions.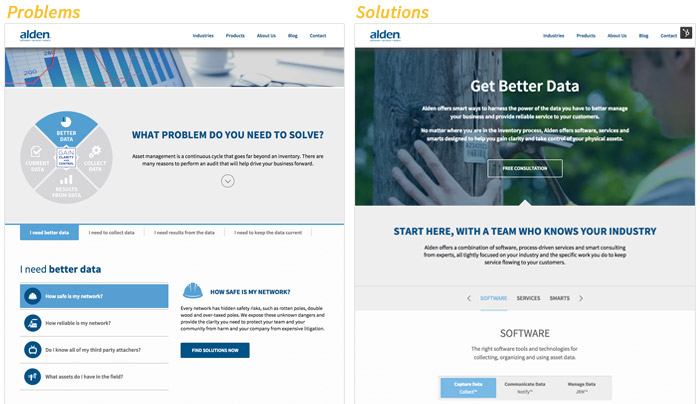 Utilizing Best Practices:
While designing the site, we were sure to incorporate inbound marketing best practices:
The main menu is clean and easy to navigate.
The hero section features a simple, yet powerful, rotating headline accompanied by introductory text explaining Alden's role within their target audience. The text is supported with a video clip that visually represent Alden's range of services.
A CTA lives above the fold, visible to all, no scrolling required.
The blog feed shows their latest post with dynamic programming that brings color to the topic.
A secondary CTA provides an additional chance for conversion.
Special attention was paid to the responsive aspect of the overall site to ensure the most user-friendly experience on any device.
Funneling Buyers:
To fully optimize the site for every stage in the sales funnel, we began with the blog. Knowing the blog is the primary way a site attracts visitors, we took care to make it an intuitive entry point. All blog pages offer email subscription sign-up and permit easy access of articles with simple search functionality and topic listings.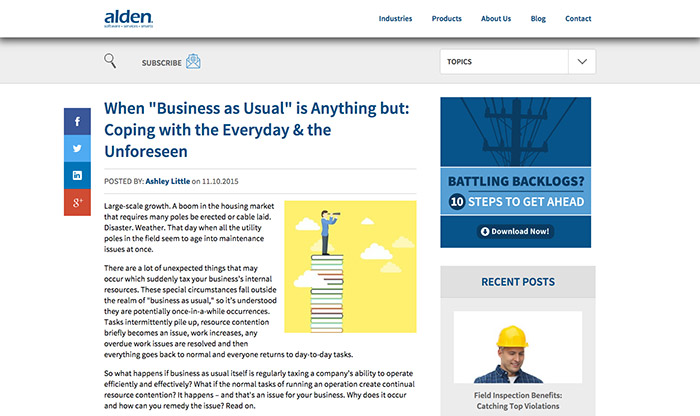 On the individual post pages, social share is encouraged with a module that follows the reader down the page as they scroll. CTA's on the sidebar and bottom of blog promote multiple opportunities for conversion. The sidebar also houses a recent post module to further engage the visitor.
Moving into the conversion stage, landing pages are set up with large titles and images. A form is presented to capture data, along with a detailed description of what the prospect will receive upon submission.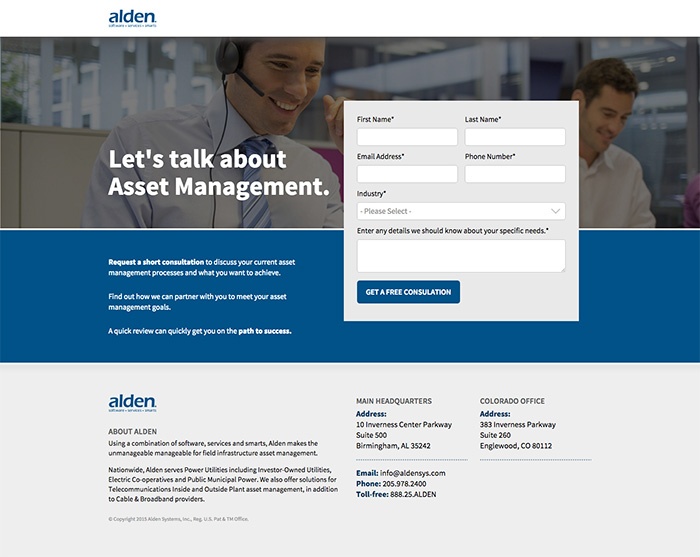 Corresponding thank you pages continue to highlight the value of Alden's services. Either a testimonial or secondary content download is displayed in order to bring leads one-step closer to purchase. Latest blog posts are displayed as well for sharing additional information.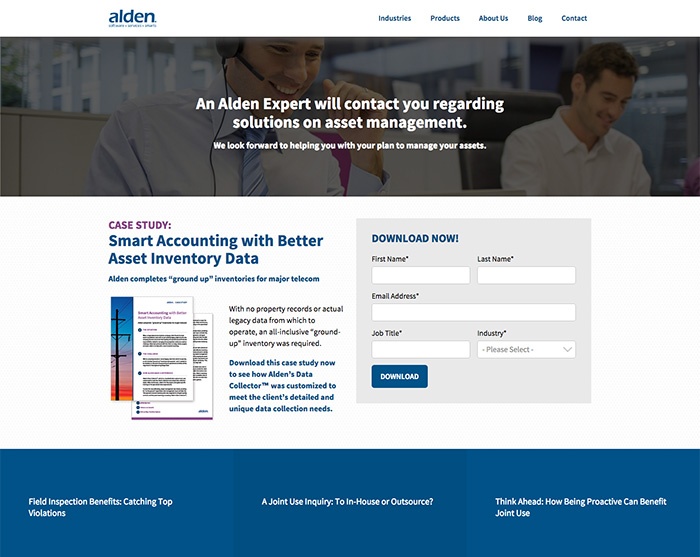 Analyzing Outcomes:
Since the launch of the new site, conversion rates on landing pages have soared. A quick review of the HubSpot landing page analytics tool indicates that the conversion rates of case studies have jumped to 30% - 60%, a big improvement from their previous rates that were lower than an ideal 20% benchmark. A new offer, which was developed to speak specifically to the pain points of the persona, achieved a 20% conversion rate shortly after its initial launch in October.
Traffic rank for the site has also increased by 92% since the new site went live in July according to the HubSpot competitors tool, which pulls in data from various sources such as Moz, Alexa, and a variety of search engines.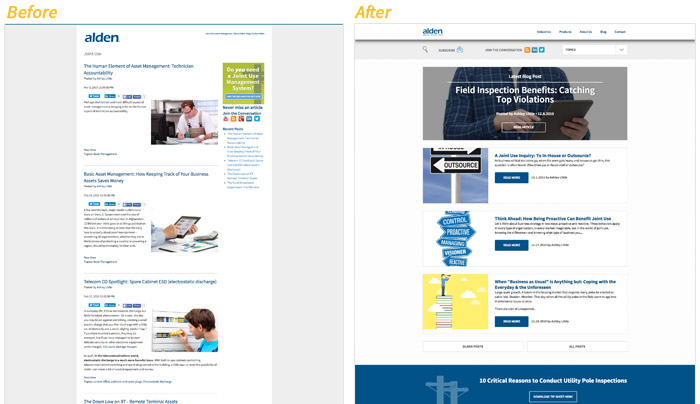 Client Impact:
Having the entire site hosted on the HubSpot CMS also provides the security, optimization, and responsiveness required for improved search rankings. In addition, by focusing on personas, their pain points and their journey through the sales funnel, Alden now has a clear conversion path for visitors to their site.
Recognizing the importance of treating their website as an on-going work in progress rather than a project to be tackled every two to three years will allow Alden to offer up a user-experience that will drive leads and client conversions.