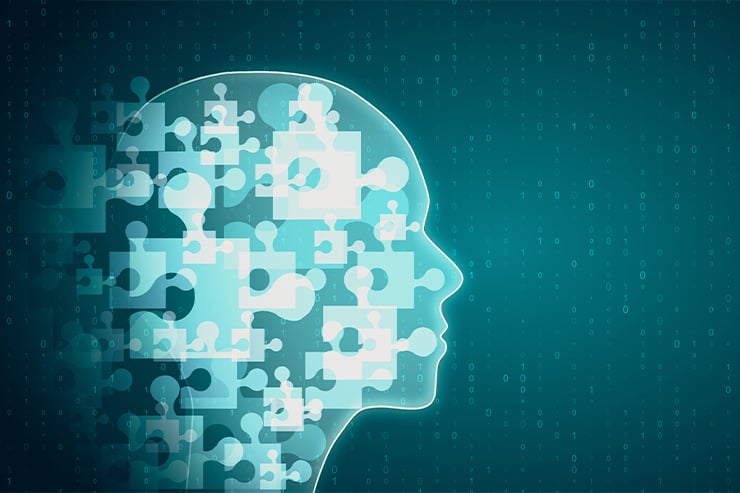 Artificial Intelligence. AI. We've all seen the movies where robotic AI armies rise against humanity, but thankfully those situations are (at present), purely fictional.
AI technology, however, is influencing almost every sector of our economy, from manufacturing to agriculture to healthcare to IT to communications—and of course, marketing. "Marketing?" you might ask. "What is AI marketing?" It's a question we'll answer here, but you might also want to take that question one step further by asking, "How can I put AI-powered marketing to work on my behalf?" Spot On can help you with solutions for that as well—read on!
Artificial intelligence marketing harnesses the power of search, sifting through mountains of data to deliver information that's most relevant to you. And even more exciting is the ability of AI to evaluate customers' buying patterns and anticipate their next purchase—allowing you to get in front of them and influence their decision. It's a power we've never seen before: an accurate glimpse into the customer's desires, emotions, and impulses, with the ability to become a key part of their purchasing narrative and potentially sway their decision to a particular product.
Demis Hassabis, CEO of DeepMind, an AI startup, notes that artificial intelligence is the "science of making machines smart." By building on human knowledge and capabilities, AI can help take the guesswork out of where you should spend your marketing dollars, delivering results that offer the best possible return on investment.
AI understands the world similar to how a human would, and once trained, can identify themes and concepts, deliver assessments, and return data at virtually the speed of light. Making AI even more "human" is its ability to interpret human emotion and communicate similar to how a person would, which makes AI ideal for interacting with people using channels like social media, website chat, and email.
And if you think AI is a temporary trends, think again. Google's CEO, Sundar Pichai, believes that artificial intelligence is going to have a more significant impact on the world than some of the biggest innovations in history, more profound than "electricity or fire". Facebook, for example, already uses an AI subfield called "deep learning" to recognize faces in the photos you post, and also utilizes algorithms that filter the content you see in your newsfeed.
Unsurprisingly, given that AI relies on electronic data, digital marketing offers the most effective tools for making the most of artificial intelligence. Here are a few ways that marketers can benefit:
Content Creation and Delivery
Think about all of the time you spend planning and creating marketing content. We know that consumers desire content most relevant to them, and artificial intelligence marketing solutions can provide you with tools to quickly and efficiently deliver just that.
Market Muse, for example, uses AI to accelerate content planning, creation, and optimization, helping you create the most relevant, authoritative, and helpful content on any topic with just a click of a button. No more wasted time, researching, finding keywords, or worrying if your content is "right". AI technology is moving the needle on the content we create and how it is delivered.
AI can identify potential customers while delivering ideal content. Zymplify is one platform that utilizes a "buyer intent engine". The buyer intent engine searches the web for "digital footprints" left by prospects who are actively researching your products, industry, or competitors. By identifying those with an intent to buy and providing a list to you, Zymplify can help you get ahead of the curve and reach the right prospects at the right time, making it a valuable sales tool.
Smarter Ads
While marketers have been delivering well-targeted advertising for some time, AI offers a greater look at available data, helping online ads become more effective than ever by diving into social profiles, keyword searches, and other online data. According to Markus Lippus, chief technology officer at MindTitan, "AI-powered systems can help advertisers test out more ad platforms and optimize targeting. That's exactly what Facebook is doing with its ad delivery optimization. However, this approach could also be applied to omnichannel PPC (Pay-Per-Click) campaign data (held by a single company) by using third-party or in-house AI tools."
Improved Customer Service
Artificial intelligence is already creating improvements in customer service and retention.
Frase, for example, replaces the live chat with which you're familiar with an AI Answer Engine Optimization system. This AI Answer Engine searches your website for the most pertinent information to answer user questions, eliminating live chat costs without compromising the customer experience.
AI bots such as this have access to the entire internet and can quickly search and analyze a whole world of data and search histories, making them more efficient than humans. AI algorithms can help improve the customer experience on your company's website by analyzing the visitor and displaying the most relevant content, push notifications, and special offers.
Better Personalization
One interesting way AI will further revolutionize digital marketing is the ability to offer greater personalization through Personality AI. For example, Personality AI can help predict someone's personality type through both artificial intelligence and machine learning, analyzing public information on sites such as LinkedIn. AI can also predict personality types in large batches, helping you see the personality types of your entire contact list. Through its ability to assess personality types, AI can help deliver an email that resonates, rather than sending a generic message.
Is a person confident and direct? Laid-back and go-with-the-flow? Logical and fact-based? Knowing the personality type with whom you're interacting can help tailor optimal customer communications and, ultimately, improve their experience with your brand.
This same technology is helping recruiters narrow down prospects for potential jobs by analyzing history to find the ideal skillset and personality type needed for a position to succeed. And who knows where Personality AI might go next?
The Future is Now
Advances in AI are moving quickly. In addition to the digital marketing applications already mentioned, AI is being used for trend forecasting, sales predictions, and dynamic pricing, to name a few. In short, artificial intelligence is here to stay, affecting every area of marketing, and the sooner your company embraces this technology, the better. Not only can it help you save money in time and staffing, but AI can deliver a premium customer experience, leading to increased sales, satisfaction, and customer retention.
In this relatively new field with so many appealing software options, it can be tempting to overindulge, purchasing every piece of software you see – but not every platform will help you achieve your goals in the long run. Spot On realizes that this "brave new world" of AI might seem daunting, and should you have questions or want help with ensuring your software best aligns with your marketing objectives, schedule a time to chat with us.
As terrific as AI advancements have been for marketing, delivering a personalized strategy for companies isn't yet in AI's wheelhouse. Spot On can help you navigate this exciting new frontier—to infinity and beyond!
If you're interested in taking a deep dive into AI and marketing, consider attending the Marketing Artificial Intelligence Conference (MAICON), July 14-16, in Cleveland, Ohio. You may even meet some of the companies that we referenced in this post!